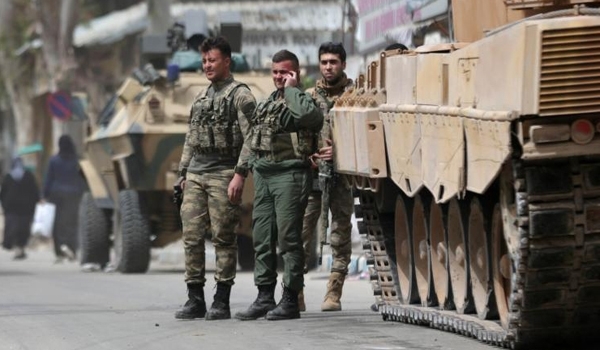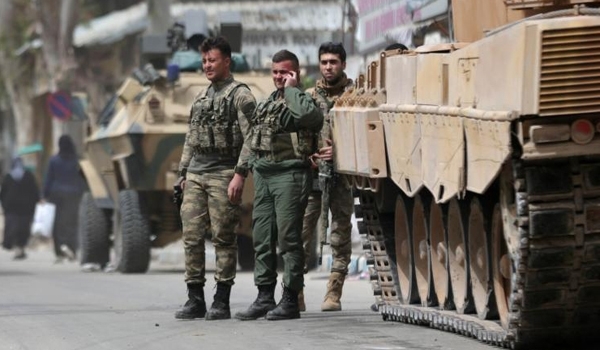 A new growing wave of rage covered villages and towns in Afrin region in Northwestern Aleppo after the Turkish troops and Ankara-backed militants intensified their efforts to annex the occupied region to Turkish territory.
The Turkish army units and their allied militants continued giving Turkish names to pave the ground for annexation of the occupied region.
The Ankara forces' measures further enraged residents in Afrin region.
The Ankara forces have forced thousands of civilians and villagers in Afrin region to leave their residential units, and then occupied their units and properties.
The Turkish troops and allied militants have continued arresting people, looting their assets and blackmailing their family members for their release all throughout the last several months.
Earlier this month, Ankara embarked on changing streets' names and numbers in the occupied town of Afrin under fresh attempts to annex the region to its soil.
Local sources reported that Afrin Local City Council affiliated to the Ankara-backed Free Army embarked on renaming streets and squares in the town.
The sources said that some of the streets and squares were named after Turkish figures, adding that the names of streets were written in both Arabic and Turkish alphabets.
They went on to say that the Ankara-backed militants were changed al-Saraya Square to Recep Tayyip Erdogan Square and Kawa Square to Olive Branch Square that was the codename of a military operation by the Turkish troops in the region.