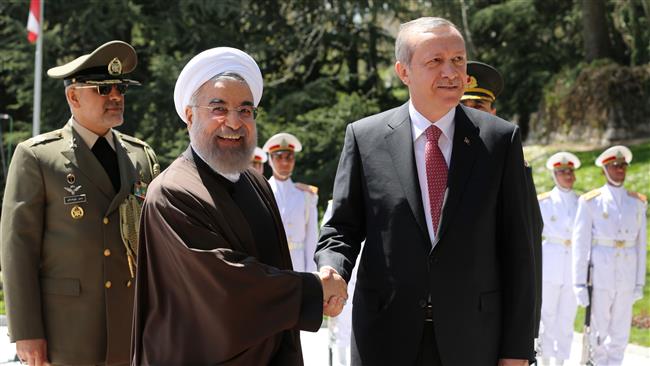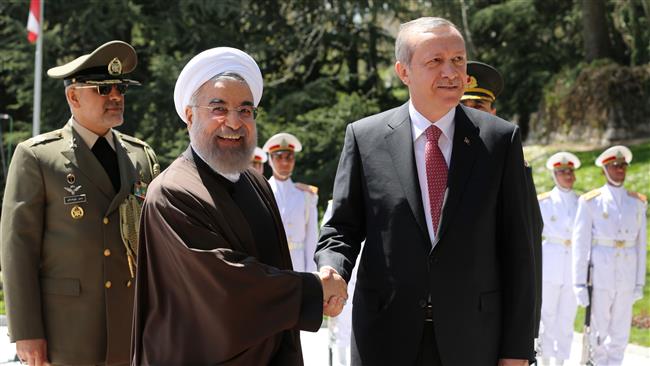 Turkish President Recep Tayyib Erdogan has arrived in the Iranian capital, Tehran, on an official visit to hold talks with senior statesmen of the Islamic Republic of Iran.
Heading a high-ranking delegation, the Turkish president was welcomed by Iran's Minister of Telecommunations and Information Technology Mahmoud Vaezi at Tehran Mehrabad Airport upon his arrival on Tuesday.
He was afterward received by President Hassan Rouhani at the Sa'dabad cultural-historical complex in northern Tehran.
Erdogan's day-long visit comes at the invitation of the Iranian president.
According to a joint statement issued by Tehran and Ankara on Saturday, Erdogan's schedule includes meetings with his Iranian counterpart as well as Leader of the Islamic Revolution Ayatollah Seyyed Ali Khamenei.
He will reportedly exchange views with senior Iranian officials on bilateral relations and regional developments, particularly those in Syria, Iraq and Yemen.
The statement added that Iranian and Turkish ministers also plan to hold the second session of the two countries' High Council for Strategic Cooperation on regional and international issues.
The first meeting of the council was held during Rouhani's visit to Ankara on June 9, 2014.
Iran and Turkey are expected to sign document for the expansion of their cooperation.