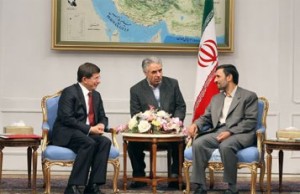 Turkish Foreign Minister Ahmet Davutoglu will meet President Ahmadinejad to discuss the latest developments in Iran's nuclear case.
A Turkish diplomat has told AFP that the meeting between Turkey's top diplomat and Iran's president will be held in the north western city of Tabriz on Friday.
The talks will focus on efforts to solve tensions between Iran and the West over Tehran's nuclear program, in which Turkey has recently taken an active part, the Anatolia news agency said.
Davutoglu has been invited to Iran by the country's first Vice-President Mohammad Reza Rahimi, it said.
Ahmadinejad was in Tabriz on Thursday to attend a ceremony held to introduce the historical city as the "Shia Capital of the Islamic World".