Middle East
Syria
Turkey
Turkish Govt. Backed Terrorists Sent to Southern Idlib to Regain Control of Lost Region
Ankara has dispatched a large number of militants to reoccupy the vital al-Qassabiyeh-al-Habit road in Southern Idlib after its affiliated militants sustained a heavy defeat from the Syrian army in the region.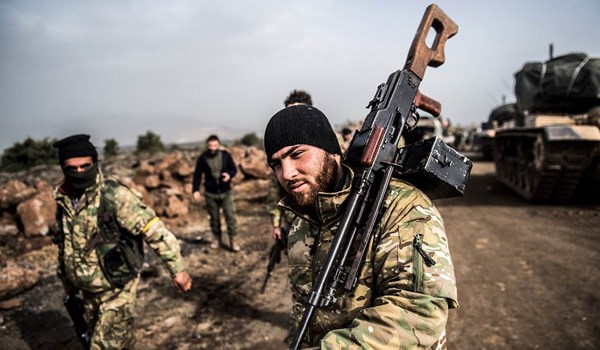 Sources close to the terrorists reported on Tuesday that hundreds of the so-called Free Syrian Army (FSA) special forces and military equipment have been sent to Southern Idlib to take control of the town of al-Qassabiyeh from the Syrian army.
Meantime, a Syrian military source said that the terrorists' supply route from the town of al-Qassabiyeh to the strategic region of al-Habit has been cut off during the Syrian army operations on Monday, and added that the army forces plan to take back control of al-Habit by advancing from the two fronts of Kafar Naboudeh and farms between al-Habit and al-Qassabiyeh.
He added that the army troops have killed tens of Tahrir al-Sham al-Hay'at (the Levant Liberation Board or the Al-Nusra Front) terrorists and other militants fighting under Ankara's command during the operations to liberate al-Habit.
Also, the Syrian army targeted the positions and moves of Tahrir al-Sham in the towns of al-Naqsir, Tarmila, Ma'arat Harmah, Ma'ar Zita, Kafar Sajnah and Ma'arat No'eman in Southern Idlib with missile and artillery fire, destroying several of their positions and military vehicles.
The Syrian army on Monday seized control of the first region in the Southern parts of Idlib province during a major offensive on Tahrir al-Sham terrorist group in Northern Syria.
The Arabic-language service of Sputnik reported that the Syrian army, supported by heavy artillery and missile fire and air force, attacked Tahrir al-Sham's positions in the town of al-Qassabiyeh in Southern Idlib from the Northern parts of the town of Kafar Naboudeh, taking back control of the town after heavy clashes.
Meantime, a military source underlined the Syrian army troops' control over the hills near the town, saying that the army forces could extend the security umbrella over Kafar Naboudeh from the North.
The terrorists had transferred their first defense lines to this region after losing Kafar Naboudeh in Northwestern Hama.