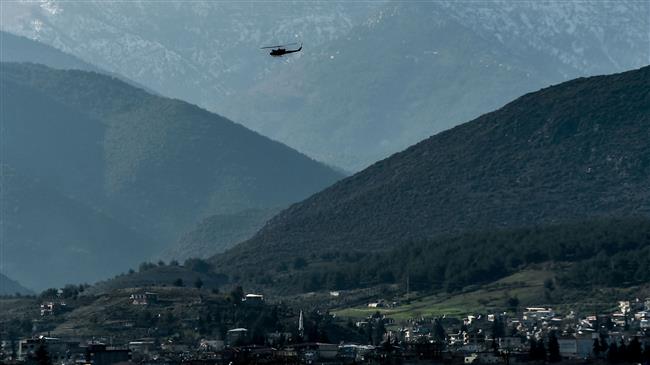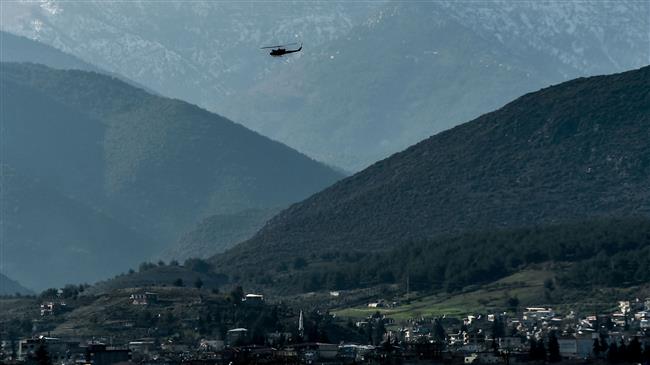 Turkish President Recep Tayyip Erdogan says one of the country's military helicopters has been shot down near the border with Syria.
Erdogan said Saturday that the helicopter was participating in the Turkish military offensive in northern Syria when it was shot down while flying over an area in Turkey's Hatay province.
He said Turkey would respond harshly to the attack and that the "perpetrators" would pay a "heavy price" for the downing that took place around noon local time and in the southern border of Hatay.
Later, Turkish Prime Minister Binali Yildirim told the local media that two Turkish servicemen had been killed in the incident. "At this stage, we can say that one out of two helicopters was downed. We have two martyrs."
Turkish military later said nine more soldiers were killed in separate incidents but did not give details. Another 11 soldiers were injured in the bloodiest day in Ankara's offensive against the Kurdish militias in northern Syria.
For nearly a month, Turkey has been engaged in a massive military operation in northwestern Syria with an alleged aim of neutralizing a threat by Kurds from the city of Afrin and surrounding areas in the Syrian province of Aleppo.
In his televised statement, Erdogan did not blame the Kurds or any other party for the downing of the helicopter.
A Kurdish militia spokesman, identified as Mustafa Bali, claimed responsibility for the attack, saying the helicopter was downed by fighters in Raju, northwestern Afrin.
Turkey's military says Kurdish forces killed five Turkish soldiers in an attack on a tank in Syria's Afrin region.
Turkey views the presence of Syrian Kurdish militants, known as the YPG, as a threat to its security, saying the group is an extension of the outlawed Kurdistan Workers' Party (PKK).
The Syrian Democratic Forces (SDF), an umbrella organization which includes the YPG, said its forces also captured a video of the downing of the helicopter although the footage was not immediately made public.
The operation in Afrin, dubbed The Olive Branch, has led to Washington's ire. The United States supports the Kurdish militants.
The Syria government, meanwhile, views the operation as a violation of its sovereignty. The costly campaign has proved to be the deadliest of all military adventures by Turkey inside the Syrian territory over the past years. Authorities have confirmed the death of scores of Turkish soldiers over the past weeks.