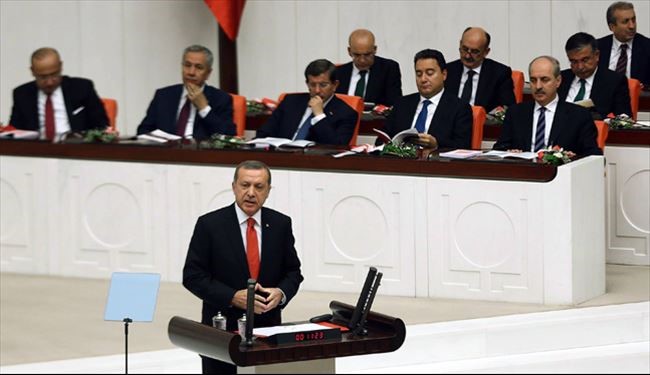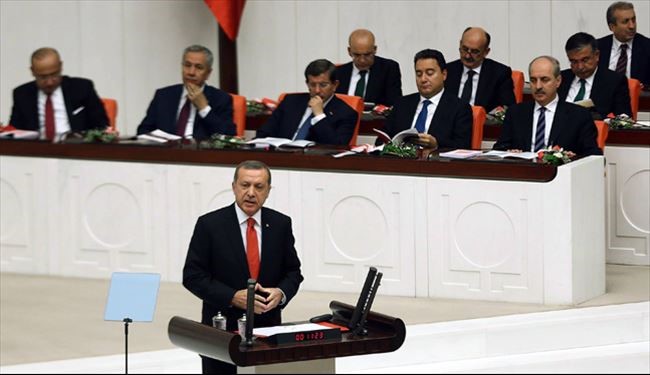 Turkey's parliament on Thursday began debating a government request to grant authorization for the use of the Turkish armed forces to combat 'jihadists' in Syria and Iraq.
The motion submitted by the government seeks a green light for the use of Turkish troops in the neighboring countries as well as for foreign forces to transit Turkish territory in operations against ISIL 'jihadists'.
The debate comes after President Recep Tayyip Erdogan last week indicated Turkey was shifting its policy to take a more active role in the fight against ISIL militants, who have advanced to within a few kilometers of the Turkish border in northern Syria.
But the requested mandate — which would last for one year — is very broad in scope and in no way commits Turkey to sending armed troops into Syria and Iraq.
The government will decide on concrete steps after winning authorization, with many analysts expecting a cautious approach.
The motion should be carried easily with the ruling Justice and Development Party (AKP) having a majority in parliament and the opposition Nationalist Movement Party also to vote in favor.
The main opposition Republican People's Party and pro-Kurdish People's Democratic Party have said they will vote against.
The United States is pressing Ankara for the use of its Incirlik air base in the Adana region of southern Turkey by US jets launching assaults against ISIL in Syria.
But it is unclear if Turkey will allow the transit of lethal weaponry and may restrict the authorization to humanitarian aid and non-lethal supplies.
Whether the Turkish armed forces will ever be used against ISIL militants is also highly questionable.
Ankara has previously justified its low-key role in the fight against ISIL by saying its hands were tied by concerns over the fate of dozens of Turkish hostages abducted by IS in Iraq.
But those hostages were freed on September 20 in a reported swap for ISIL captives held by pro-Ankara Syrian rebels whose details have yet to be fully publicized.