Turkey
Turkish People against Zionist Clinton visit to Turkey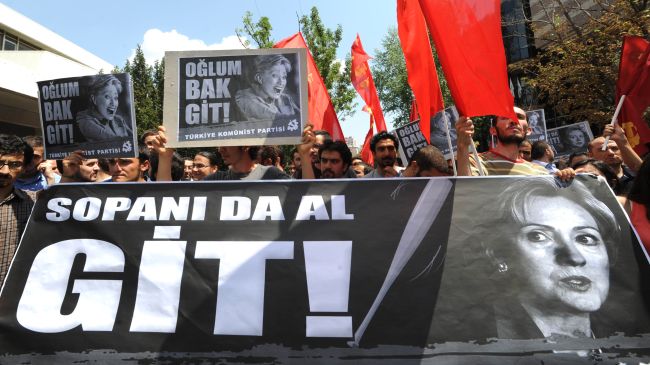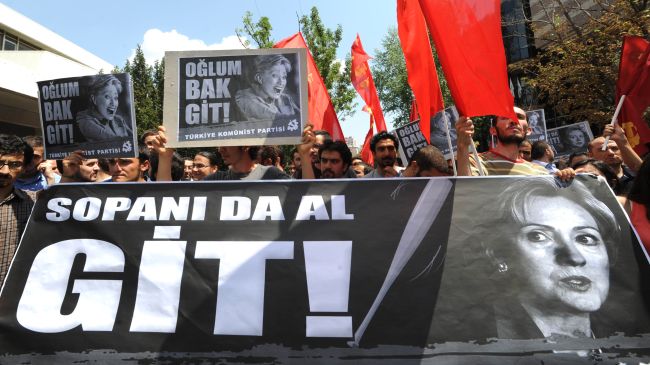 Turkish demonstrators have marched to the US Embassy in Turkey to condemn a visit by zionist Hillary Clinton to Istanbul.
Police used batons to disperse the demonstrators outside the embassy in the capital, Ankara.
Clinton arrived in Turkey on Saturday for talks with Turkish President Abdullah Gul, Prime Minister Recep Tayyip Erdogan and Foreign Minister Ahmet Davutoglu on the situation in Syria.
Washington and Ankara repeated calls for Syrian President Bashar al-Assad to step down.
The US secretary of state and the Turkish foreign minister held a joint press conference in Istanbul on Saturday.
Clinton said Washington will "hasten the end of… the Assad regime," adding the US is worried about the presence of the Kurdistan Workers Party (PKK) in Syria along the Turkish border.
"We share Turkey's determination that Syria must not become a haven for PKK terrorists whether now or after the departure of the Assad regime," she said.
The Turkish foreign minister stated that in his meeting with the US secretary of state the two sides discussed the ways of assisting the opposition inside Syria.
"We need to take joint efforts to prevent a power vacuum from being formed," Davutoglu said.
The anti-Syria Western regimes have been calling for the Syrian president to step down.
On June 3, President Assad Syria is "facing a war from abroad" and that the nation is "facing attempts to weaken Syria and breach its sovereignty."