Turkey
Turkish police attacked protesters who took to the streets in Ankara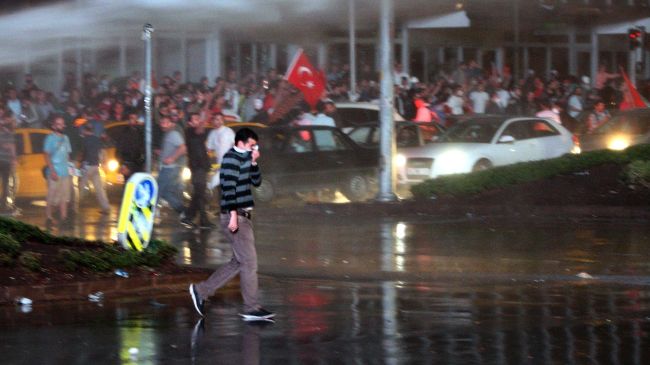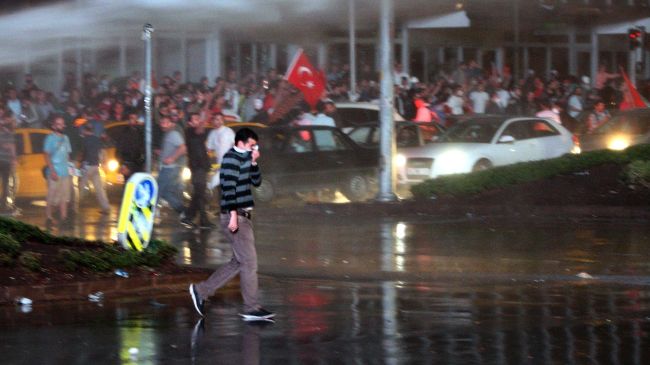 Turkish police have attacked protesters who took to the streets in Ankara defying Prime Minister Recep Tayyip Erdogan's call for an immediate end to protests.
The police used tear gas and water cannon on thousands of people who turned out in central Ankara on Saturday and marched to an area close Erdogan's office and to parliament.
Meanwhile, tens of thousands gathered in Istanbul's Taksim Square, chanting slogans against Erdogan and his authoritarian ways.
The unrest, which has entered its ninth day, was triggered by the police violence against an environmental protest in Taksim Square on May 31.
The protests soon spread to 78 cities across the country and solidified into calls for Erdogan's resignation.
On Saturday afternoon, Erdogan met with senior officials of his Justice and Development Party (AKP) in Istanbul to discuss how to deal with the crisis.
Speaking after the meeting, party spokesman Huseyin Celik ruled out a snap election, and dismissed rumors that the 2015 general elections would be moved forward.
Leader of opposition Nationalist Movement Party (MHP) Devlet Bahceli had called for early elections in order to overcome the current unrest.
"The prime minister's stance and the tumult have deepened the crisis," he told reporters. "The prime minister's time is up, we believe he has to renew his mandate."
But Celik said the main opposition party was trying to topple Erdogan through illegitimate means after failing to beat the AKP in several elections.
Erdogan on Friday urged an immediately end to all protests, but they showed no signs of abating.
On Saturday, thousands of fans from Istanbul's rival football teams, Fenerbahce, Galatasaray and Besiktas, held a mass march and joined protesters in Taksim Square.
The wave of protests in Turkey initially started in Takism Square over development plans that would have replaced the square's park with buildings.
On Saturday, Istanbul's mayor confirmed that the government would go ahead with plans to reconstruct the Ottoman-era barracks in Taksim but had abandoned plans to build a shopping mall, luxury hotel or residences.