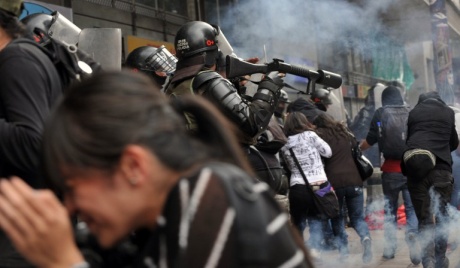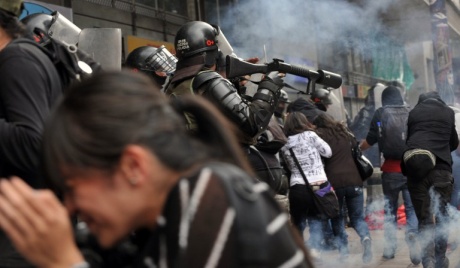 Hundreds of demonstrators marched to the prime minister's office in Ankara on Friday to protest a police crackdown on university students earlier this week.
Around 500 protesters, estimated by Agence France Presse, chanted slogans blasting Prime Minister Recep Tayyip Erdogan, unfurling banners reading "Set Free Detainees" — referring to students who were arrested Tuesday after protesting the prime minister's visit to Middle East Technical University (METU).
Police fired tear gas and water cannon to disperse the protest at the university, where Erdogan went to watch the launch of a Turkish earth observation satellite into orbit aboard a Chinese rocket.
Around 50 protesters were injured, and police detained 12 students after the clashes, according to local media outlets.
One of the protesters, Baris Barisik, suffered a brain hemorrhage after a gas bomb hit him in the head during the protest.
The police crackdown sparked outrage among academics and opposition parties, which accused the AKP of authoritarianism.
A group of METU academics boycotted classes Thursday to protest police violence and detentions, which were also criticized by the mainstream media and a rights group.
For its part, the human rights group Amnesty International called on Turkish officials to launch a "speedy, comprehensive and neutral investigation into the incident … where police used excessive force against peaceful protesters at the METU campus."