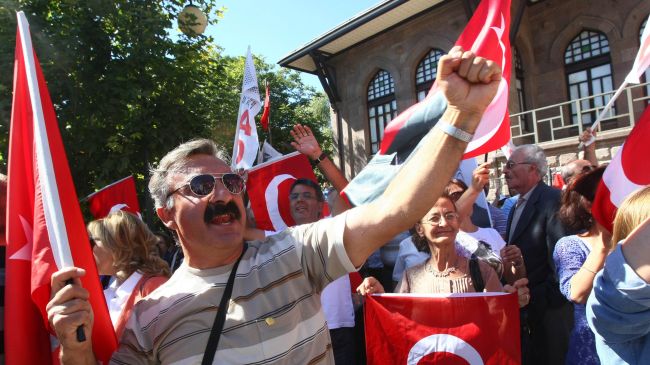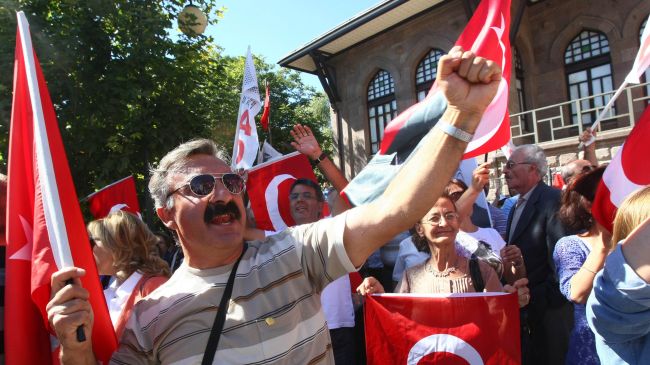 Turkish police have fired tear gas to disperse anti-war protesters outside the parliament in the capital Ankara.
The protesters took to the streets around the Turkish parliament on Thursday, chanting, "We don't want war!" and "The Syrian people are our brothers!"
The Turkish parliament was debating a motion that would allow military operations in Syria if the government considers them as necessary.
The demonstration comes after Turkish forces reportedly killed several Syrian soldiers in an attack on a military post near the border town of Tel Abyad earlier on Thursday.
Turkish government said the attack was in retaliation for a Syrian mortar strike that led to the deaths of five people in Turkey's southeastern town of Akcakale on Wednesday.
Damascus says certain Western and regional countries, including Saudi Arabia, Qatar and Turkey, are supporting the insurgents fighting against the Syrian government.
In July, Syrian President Bashar al-Assad said in an interview with the Turkish Cumhuriyet daily that Turkey "has supplied all logistic support to the terrorists who have killed our people."