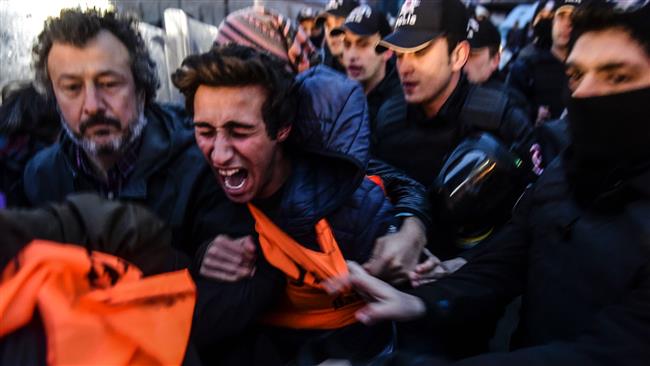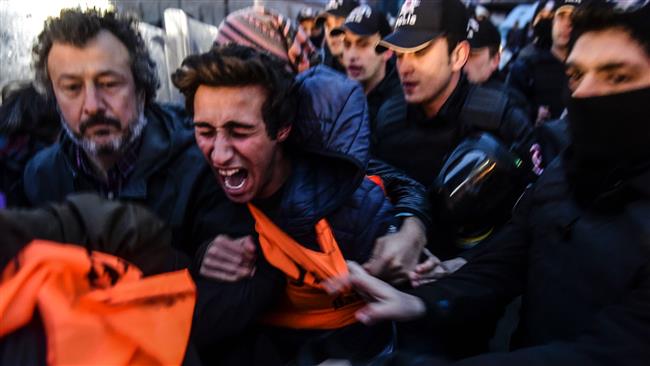 Turkish police have attacked the protesters who were out on the streets of Istanbul to denounce what they called the government's failure in preventing terrorist assaults in the country.
On Monday, anti-government protesters gathered at Istanbul's Taksim Square, chanting slogans and holding banners to denounce Ankara's mismanagement, which they blame for the terror attacks such as the one that claimed nearly 40 lives in the capital Ankara over the weekend.
However, the gathering turned violent after security forces intervened, firing water cannon and rubber bullets at the demonstrators. Police forces also arrested several people during the rally.
On Sunday, a bomb attack struck a busy transportation hub in Ankara, killing at least 37 people and injuring 125 others.
No terrorist group has yet claimed responsibility for the bombing, but security officials say initial findings suggest the two perpetrators of the car bombing, a man and a woman, were linked to the Kurdistan Workers' Party (PKK) militant group.
Following the bombing, the Turkish army stepped up its military campaign against the PKK.
Turkish warplanes targeted PKK positions in northern Iraq on Monday. The strikes pounded arms depots and shelters of the militant group in the mountainous Kandil and Gara regions, the army said.
Inside the country, authorities have also declared curfew in the mainly Kurdish southeastern town of Sirnak from Monday night.
The new blast came less than a month after another car bomb attack in central Ankara killed 29 people. Militants with the Kurdistan Freedom Hawks (TAK) group claimed responsibility for the incident on its website.
Violence flared between the militant group and the Turkish army last July and shattered a fragile two-and-a-half-year ceasefire between the two sides.
The Turkish army has been carrying out a military campaign in several regions with a majority Kurdish population in the past few months.
The operations began in the wake of a deadly July 2015 bombing in the southern Turkish town of Suruc. More than 30 people died in the attack, which the Turkish government blamed on the Takfiri Daesh terrorist group.
In the wake the bombing, the PKK militants, who accuse the government in Ankara of supporting Daesh, engaged in a series of attacks against Turkish police and security forces.