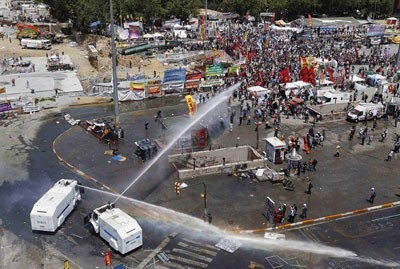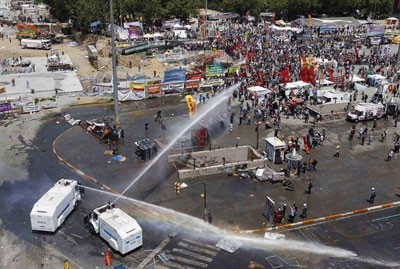 Protests in Turkey have taken a serious course on the 12th day with the Turkish police, backed by armored vehicles, storming into Taksim Square, the center of the protest movement demanding the departure of Recep Tayyip Erdogan, leader of the Justice and Development Party, and his government.
The France Agence-Presse reported that hundreds of policemen broke into Taksim Square using tear gas bombs and removed some barricades set up by the demonstrators in some of the main streets surrounding the Square, backed by armored vehicles equipped with water cannons.
Media reports indicate that the confrontations are still going on in Taksim Square during which the Turkish police also used rubber bullets to keep away the demonstrators who dispersed into byroads chanting "Every Place Is Taksim".
Meanwhile, a security cordon was imposed around the statue of Mustafa Kemal Ataturk in the middle of Taksim Square where tens and flags were removed.
Russia Today channel announced that its correspondent and cameraman were injured due to the police's use of tear gas and water cannon, adding that the camera totally smashed after the cameraman fell on the floor due to an injury by a tear gas bomb.
In an attempt to justify Erdogan's police's storming of Taksim Square, Governor of Istanbul, Hüseyin Avni Mutlu, claimed that the protesters who occupied the Square for 12 days damaged the image of Turkey.
Speaking in a press conference, Mutlu said the protesters were making the Square look as though it was under "occupation" and was "negatively affecting our country's image in the eyes of the world opinion and leading to reaction from within the society."
He considered that the aim of moving into the Square is not to force the protesters outside the Square but to remove the banners and pictures hung on the building.
These developments came one day after Erdogan's government promised that it was not going to allow the protesters to go on whom he earlier described as "anarchists" and "saboteurs".
Issuer of Devilish Fatwas Rushes to Erdogan's Help
Meanwhile, the so-called head of the Union of Muslim Scholars, Yusuf al-Qaradawi, the one who has issued a series of instigative fatwas to encourage the bloodshed of the Syrians, rushed to his Erdogan's help.
Being his Muslim Brotherhood partner, al-Qaradawi issued a fatwa prohibiting protesting against Erdogan to protect the latter form the wrath on the Turkish streets.
Like al-Qaradawi and his devilish fatwas against the Syrian people, Erdogan is involved in the bloodshed in Syria.
Tens of security, intelligence and media reports confirmed that Erdogan's government has been supplying the terrorists with the funds and arms to fight the Syrian army and people, in addition to holding training camps for them on the Turkish land and opening its borders for them to enter Syria.