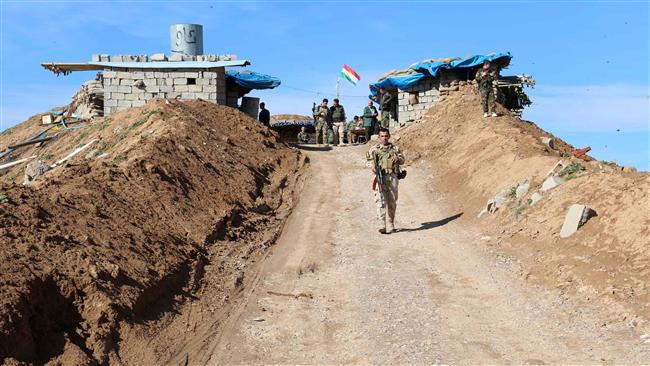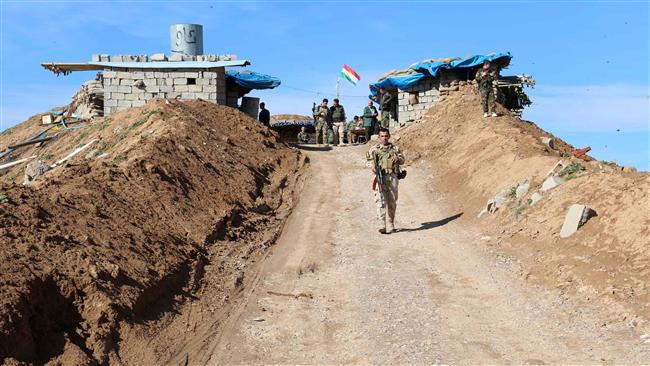 Iraqi Turkmen leaders say the local Kurdish government is exploiting the war on Daesh to dig a trench that will divide the country.
They said the Kurdistan Regional Government (KRG) is digging the trench in the conflict lines between Daesh and Kurdish forces across northern Iraq.
"We see this move to dig a trench as suspicious," AFP quoted Arshad al-Salehi, the head of the Iraqi Turkmen Front, as saying.
The trench starts in the town of Rabia on the Syrian border and ends in the city of Khanaqin, 400 km (250 miles) to the southeast near the Iranian border, he said.
The Turkmens are one of Iraq's largest ethnic minorities and many of their hubs are just beyond the KRG-controlled territory but claimed by the Kurds.
Kurdish peshmerga fighters seized many of those areas after the rise of Daesh in the northern and western parts of Iraq in 2014.
"We see it as the beginning of the division of Iraq. It gives reality on the ground to a redrawn geopolitical map," Salehi said.
He urged Iraqi Prime Minister Haider al-Abadi to clarify his position on the issue, saying he would bring up the issue in parliament.
The KRG acknowledged it had recently stepped up the fortification of its front line with Daesh but denied any political motive.
"The purpose of the trench is to build a defensive system against vehicles used by Daesh terrorists who blow up car bombs," peshmerga spokesman Jabar Yawar said.
"It is 2 meters deep and 3 wide. It is not everywhere, some areas don't need it. It is the military leadership that makes this decision," he said.
But Turkmen officials stood with their claims. Jassem Mohammed Jaafar, a Turkmen lawmaker, accused the KRG of using the war against Daesh as a pretext to further the expansion and ultimately secession of their region.
The planned path of the trench would include the town of Tuz Khurmatu, a mainly Turkmen town, and separate it from Amirli which Iraqi forces recaptured last year.
Turkmen officials said work has begun to dig the trench in areas around the oil-rich city of Kirkuk and the Jalawla region near the Iranian border.
Mehdi Saadoun, an activist from the Turkmen Rescue Foundation, said the trench is a Kurdish attempt to further their nationalist ambitions.
He said 70-80% of the areas to be included on the KRG side are Turkmen areas, including Tal Afar, Kirkuk and Tuz Khurmatu.
He called on the central Iraqi government to "enforce the law on preserving the unity of Iraq," saying "Daesh is the excuse the Kurdish forces are using to impose a fait accompli by digging this trench."
Najmeddin Karim, the governor of the Kirkuk province which is controlled by peshmarga, defended the KRG's move.
"They have the right to dig a trench to protect the people and the cities from terrorists and prevent any infiltration by Daesh," he said.