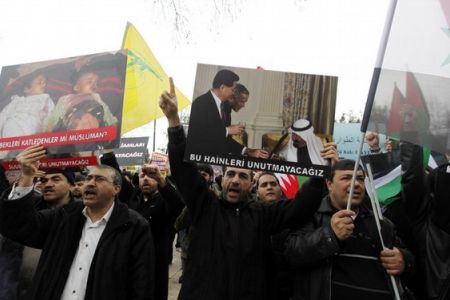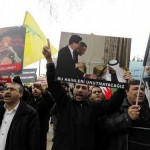 Hundreds of Turkish people have taken to the streets in Istanbul after the Friday prayers to condemn the Saudi-backed Bahraini crackdown on anti-regime protesters in the tiny Persian Gulf kingdom.
Gathering outside a well-known mosque in Istanbul,Turkish protesters shouted; "The King of Saudi Arabia is the servant of America," a Press TV correspondent reported.
More than 12 people have been killed and about 1,000 injured during the anti-government protests since February 14 in Bahrain, where Demonstrators have been demanding the ouster of the 230-year-old Brutal-led al-Khalifa monarchy.
Bahrain is home to the US Fifth Fleet major military base.
The Turkish demonstrators on Friday called on the Bahrain government to stop the use of force against peaceful protesters who are calling for more rights in the Persian Gulf State.
The protestors hold the US and its regional ally Israel responsible for the chaos in Bahrain. They asked why the US supported the Egyptian revolution, but have left the Bahrain people to die. They believe that this is part of a plot to sow the seeds of conflict in the Muslim world.
"We arrange this protest to tell the people that the Saudi Arabian king is doing his best to start the conflict between Shia and Sunni. We are here to condemn this dishonest behavior," a protester told Press TV.
"I think the government that is trying to torture its own people with the help of western countries is not legitimate any more. I am here to raise my voice on this issue," another protester said.
The demonstrators also chanted slogans against the Bahraini and Saudi monarchies, and in support of Bahrain's right to develop a form of governance that represents the people.