Africa
Twin bomb blasts kill 71, injure 124 in Nigeria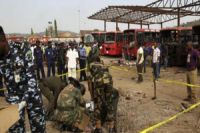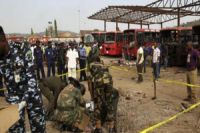 Twin bomb explosions at a bus station outside Nigeria's capital city of Abuja have killed at least 71 people and severely injured 124 others.
According to AFP, Nigerian security officials say the blasts occurred at the bus station packed with commuters on the outskirts of Abuja on Tuesday.
The death toll rose to 71 after several people succumbed to their injuries at hospitals across the capital city. This is while earlier media reports had put the death toll at 35.
Medical sources said the death toll is expected to rise as some of the injured are reported to be in critical condition.
No group has yet claimed responsibility for the attack. Similar incidents, however, are usually blamed on Boko Haram fighters.
Abuja and its adjacent areas have been rocked by deadly bombings several times over the past few years.
Several regions of Nigeria have been also hit by deadly violence in recent months.
The developments come a day after at least 60 people were killed in two separate attacks in the towns of Anchaka and Bama in northeastern Borno state on Sunday.