Iran
Latin America
Middle East
Twitter suspends account of Iran's Hispan TV
Twitter has suspended the account of the Spanish-language Hispan TV, which is a news channel operated by the Islamic Republic of Iran Broadcasting (IRIB).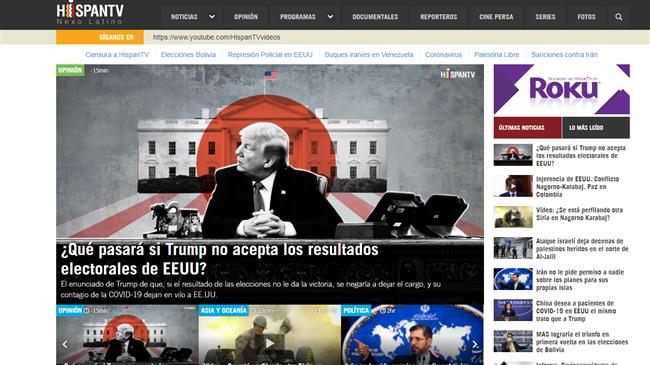 The Hispan TV account has not been working since September 30. Its blockage raises the possibility that it has been added to the black list of the American online micro-blogging and social networking service.
Hispan TV seeking to know why it was blocked sent an email to Twitter's official account, but the email was not replied to.
Twitter has already suspended the Persian-language accounts of some Iranian news agencies as well as accounts of Press TV, the English-language channel based in Tehran.
American social media giants often target Iranian media outlets.
Last month, Google targeted Press TV, blocking access to its official YouTube account of the international news network, citing "violations of export laws."
The move came almost a year after the US tech giant shut down YouTube and Gmail accounts of both Press TV and Hispan TV without any prior notice.
Over the past years, Google has recurrently been opting for such measures against Iranian media outlets. It has taken on Press TV more than any other Iranian outlet given the expanse of its viewership and readership.
Press TV was targeted in April last year, when Google similarly shut its YouTube and Gmail accounts.
The previous attack also denied the networks any advance notification, sufficing to cite a nebulous "violation of policies."
The Islamic Republic of Iran Broadcasting — which runs Press TV and Hispan TV as part of its World Service — has called such attacks clear examples of censorship.
Such attacks on the freedom of speech seem to be part of an anti-Iran policy perused by US President Donald Trump since taking office.
After Trump took office in 2017, Washington ramped up its efforts to target the Islamic Republic.
The campaign even assumed the self-styled title of "maximum pressure" under the current US president.
The drive has seen the US leaving a multi-party nuclear agreement with Iran in May 2018, and returning the nuclear-related sanctions that the deal had lifted.
As part of the campaign, the US State Department has also called on social media companies Facebook, Instagram, and Twitter to block the accounts of Iranian government leaders, and iOS — a mobile operating system created by US company Apple Inc. — disabling Iranian applications.
In an arbitrary move in April, the US Treasury Department's Office of Foreign Assets Control (OFAC) blocked and seized the official domain name of Iranian state-run newspaper "Iran."