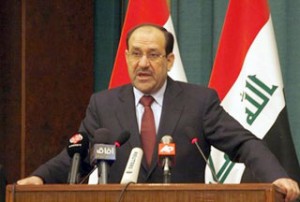 Iraqi Prime Minister Nouri al-Maliki says two senior al-Qaeda leaders have been detected and killed north of the capital, Baghdad.
Maliki said in a televised address on Monday that Iraqi intelligence agents captured and killed the two identified as Abu Omar al-Baghdadi and Abu Ayub al-Masri, in Salaheddin province.
The premier showed the pictures of both men before and after their deaths. Maliki also said that DNA tests put the identities of the slain terrorists beyond doubt.
Baghdadi's death had been announced a number of times before in 2007 and 2009.
After reports of Baghdadi's death in 2007 turned out to be false, US Brigadier General Kevin Bergner told reporters that the US military believed Baghdadi was a myth created "to put an Iraqi face on the leadership of al-Qaeda in Iraq."
Masri was also a senior aide to the former leader of al-Qaeda, Abu Musab al-Zarqawi, who was killed in a US airstrike in 2006.