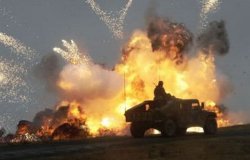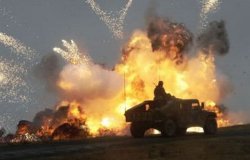 Two soldiers from 1st Battalion Irish Guards have been killed in an explosion in Afghanistan, six days before they were due to return to the UK, the Ministry of Defence (MoD) in London announced on Thursday.
The vehicle the soldiers were travelling in after searching a number of compounds in the Nahr-e Saraj district of Helmand province was hit by a roadside bomb as they returned to base from an operation with Afghan forces aimed at disrupting insurgent groups, the MoD said.
'On completion of the operation, their patrol had just left an Isaf base in order to return to their own camp – to commence their handover to the next unit before they were due to return home in six days," spokesman for Task Force Helmand Lt Col Tim Purbrick said.
The latest deaths take the total number of UK military personnel killed in Afghanistan to 362 since the overthrow of the Taliban regime in 2001. The number includes 12 deaths in the past two months.
In a written reply to parliament published on Thursday, Defence Secretary Liam Fox said that the MoD has recently completed a review of deployed forces and judges that "force levels and posture are robust enough to deal with any spring offensive by the Taliban in UK areas of operation."
"The high tempo and aggressive operations carried out over the winter months to disrupt the Taliban will continue," Fox said.
On Wednesday, a high-ranking group of seven former military, political and diplomatic leaders sent an open letter to UN Secretary General Ban Ki-Moon, calling for a fresh approach for an international process to secure a political settlement to the conflict in Afghanistan.
"First, the international community must endorse a diplomatic strategy for addressing not only the drivers of conflict inside Afghanistan but also its regional and international dimensions," said the signatories, who included former British foreign secretary David Miliband and former Nato secretary general Lord Robertson.
"Second, this must be translated into a tangible international process with strong backing from the UN Security Council, its member states and other international bodies who can offer their good offices, such as the OIC (Organisation of Islamic Conference)," their letter said.
A corresponding call was also made by a group of eight aid agencies, including Oxfam, Christian Aid and Afghanaid, when joining together to launch a new campaign for a comprehensive peace process in Afghanistan and for better protection of civilians.