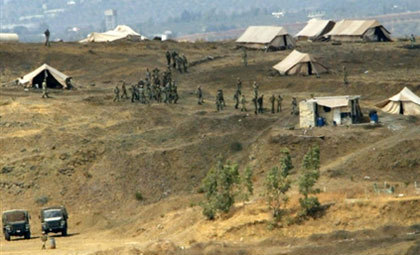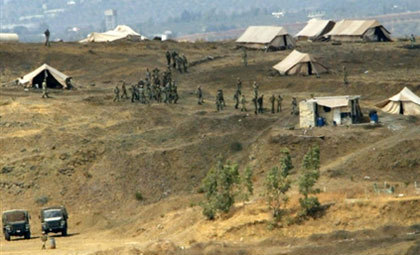 Two Lebanese nationals were killed in an armed attack in the Syrian town of Rableh on the border with Lebanon, state-run National News Agency reported on Sunday, after Hezbollah Secretary General Sayyed Hasan Nasrallah said Friday that around 30,000 Lebanese residents live in 23 Syrian border towns and 12 farms in the frontier region.
Lebanese citizens "Abdo Yaacoub al-Ahmar, 92, and Taifallah Nicolas Atiyyeh, 53, were transported from Syrian territory for treatment in Lebanon via the Lebanese border town of Hawsh al-Sayyed Ali after they sustained severe wounds in an armed attack on the town of Rableh.
The two Lebanese have succumbed to their wounds a short time later," NNA said.
"Dozens of the area's residents staged a rally to demand that the state protect the Lebanese citizens who live in Syrian border towns," NNA added.
The bodies of two Lebanese citizens were transported from Syria to the al-Batoul Hospital in Hermel," and were later taken back to the town of Rableh for burial.
On Friday, Sayyed Nasrallah denied rumors claiming that a Hezbollah commander and several fighters were recently killed while fighting alongside the regime in Syria. His eminence made clear that the Hezbollah fighters were martyred while defending Lebanese-inhabited border towns.