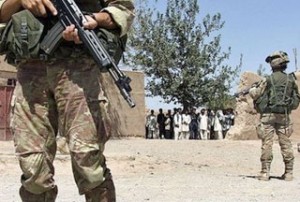 Two more British soldiers are killed in blasts in south Afghanistan, hours after the British Premier Gordon Brown announces an end to operation Panther's Claw.
"One soldier was killed when a vehicle taking part in Panther's Claw, an operation against Taliban insurgents in the southern province of Helmand, was hit by an explosion," the British Defense Ministry said in a statement late Monday.
A second soldier was killed in an explosion while on foot patrol in the Sangin district of Helmand, it added.
The news comes a few hours after Gordon Brown announced the end of the five-week offensive, which, he claimed, managed to push back the Taliban and break the chain of terror linked to Britain.
However, the latest developments demonstrate that violence in Afghanistan has escalated since US Marines and British troops launched major offensives in the southern province of Helmand earlier this month.
So far this month, around 20 British troops have died in the country. The British fatality in Afghanistan has exceeded that of their forces during the Iraqi occupation.