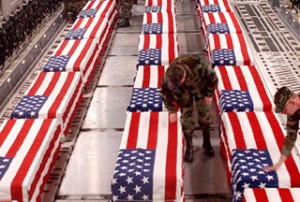 Two more US-led troops have been killed in separate incidents in volatile southern Afghanistan amid the climbing casualty counts among foreign troops.
US-led International Security Assistance Force (ISAF) said in a statement that one of its soldiers died in a Thursday bomb strike in an area where Operation Moshtarak is continuing.
According to the ISAF statement, the other soldier was killed in a vehicle accident.
With the latest incidents, the death toll this year for foreign soldiers stationed in Afghanistan has hit 111.
Operation Moshtarak was launched in Marjah on February 13, 2010, with the aim of eradicating Taliban militants there.
The operation has led to growing instability and civilian casualties in the region, triggering scarcity of essential supplies.
The local residents, who do not receive aid in a consistent and efficient manner, are forced to flee their homes, risking the likelihood of being caught in the cross-fire as well as the mine fields planted by militants.
Thousands of Afghan civilians have been killed since the 2001 US-led invasion of Afghanistan.