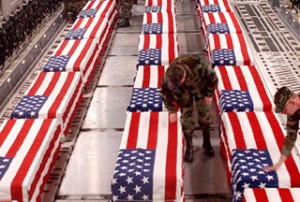 Two US soldiers have been killed in separate bomb attacks in Afghanistan, bringing to 179 the US death toll in the country this year.
On the same day the top US commander in Afghanistan presented a report on a failed US strategy in the country, the American military reported two more losses in the region.
The soldiers from the NATO-led International Security Assistance Forces (ISAF) were killed in road-side bomb explosions in southern Afghanistan, the military said in a statement.
The latest fatality brought to 809 the number of American soldiers killed in Afghanistan since the start of the US-led war to overthrow the Taliban regime in the aftermath of the September 11 attacks in 2001.
Earlier in the day, General Stanley McChrystal reported that the 8-year-old war in Afghanistan can still be won but only with a revised strategy. As he announced the conclusion of a long-awaited review of strategy in the country, speculations were raised that could seek more troops.
Rising insurgency had prompted the administration of US President Barack Obama to send another 4,000 troops to Afghanistan, in addition to 17,000 extra troops already deployed in the war-ravaged country. There are around 100,000 US and NATO-led troops in Afghanistan.