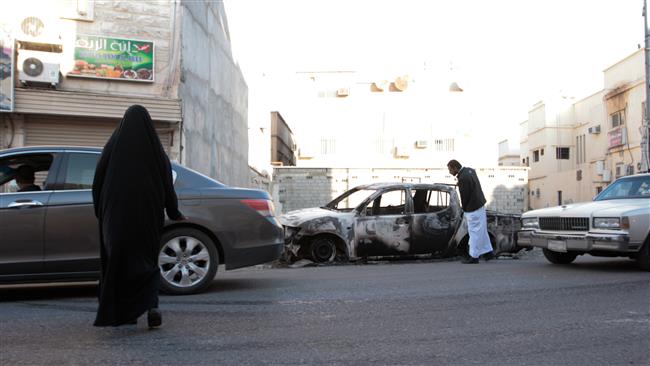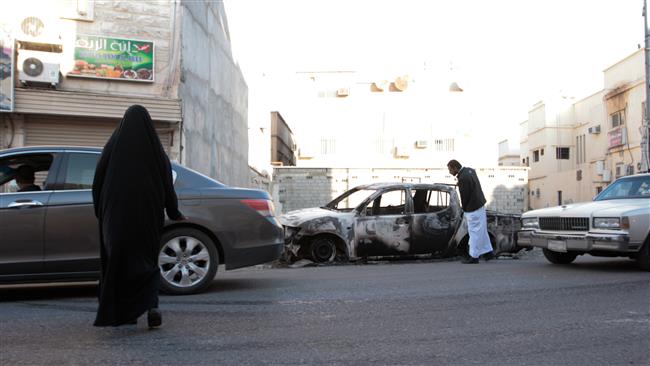 Two Saudi policemen are killed in a shooting incident in the Saudi capital Riyadh, Saudi sources confirm.
According to a Saudi policeman, speaking on the condition of anonymity, the policemen were killed after their patrol came under fire in a drive-by shooting early on Wednesday morning, Saudi media reported.
The two killed policemen have been identified as Thamer Amran al-Mutairi and Abdulmohsen Khalaf al-Mutairi.
The incident took place in an eastern district of the capital.
In a similar drive-by shooting attack late in March, two Saudi police officers were injured in the Saudi capital.
On April 6, a Saudi police officer identified as Corporal Majed bin Turki Al-Qahtani died and five people, including three other officers and two citizens, were wounded following an operation to crack down on dissent in the restive town of Awamiya in the Qatif region of Saudi Arabia's Eastern Province.
The attacks come as Saudi Arabia's Interior Minister Prince Mohammad bin Nayef bin Abdulaziz Al Saud on March 26 ordered the strengthening of security measures along Saudi borders and across the kingdom, including at oil facilities, as Riyadh pushes ahead with its aggression against Yemen.
On April 3, two Saudi soldiers, identified as Abdulrahman al-Qahtani and Mohammed al-Harbi were killed in an exchange of fire between Saudi security forces and Yemen's Ansarullah fighters on the kingdom's border with Yemen.
On April 2, a Saudi soldier was killed and 10 others were wounded in a similar exchange of fire across the Yemeni border.
Saudi Arabia's military aggression against Yemen started on March 26, without a UN mandate, in a bid to restore power to fugitive former president, Abd Rabbuh Mansour Hadi. The airstrikes have killed hundreds of people and injured thousands more.
More than 540 people have been killed in Yemen since the military conflict began in the Arab country in mid-March, according to the World Health Organization.
Ansarullah revolutionaries say Hadi, who is now in Riyadh, lost his legitimacy as president of Yemen after he fled the capital to Aden in February.
Popular Committees backed by Ansarullah fighters are continuing their advances despite the Saudi attacks while stepping up their fight against al-Qaeda terrorists and securing many areas from the militants.