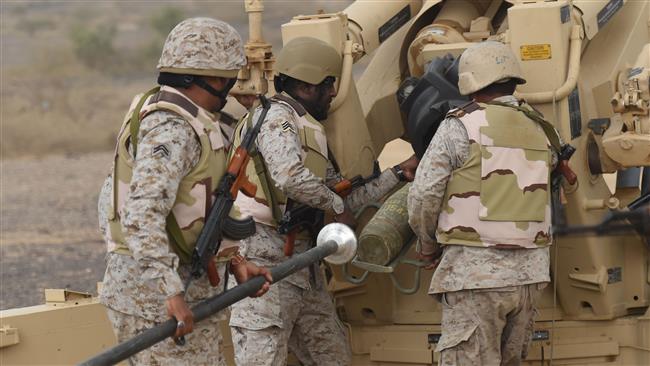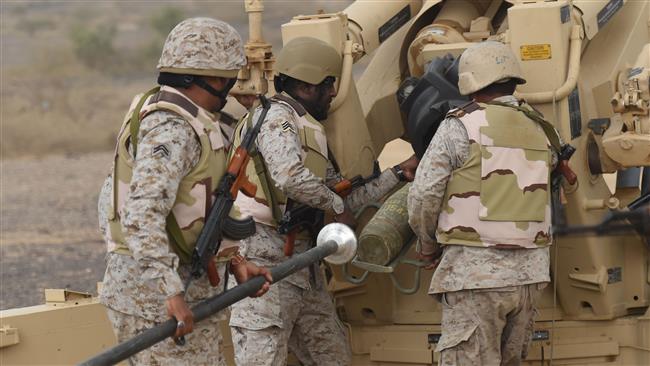 At least two zioist Saudi regime soldiers have reportedly been killed in separate retaliatory attacks by Yemeni forces against the kingdom's southwestern border regions of Najran and Asir.
The Saudi Arabian National Guard announced on Saturday that Sergeant Khaled bin Mohammed was killed during clashes with Yemeni forces in Najran, located 844 kilometers (524 miles) south of the capital, Riyadh.
Another Saudi trooper, whose identity was not available, was also killed on Saturday afternoon after "heavy firing from inside Yemeni territory" targeted his border guard station in Asir region.
Meanwhile, the spokesman for Saudi Arabia's military operation in Yemen, Brigadier General Ahmed al-Asiri, has  dismissed media reports that more than 100 Saudi-backed mercenaries had been killed and 150 others wounded in an attack by Yemenis.
According to the media reports, the fatalities came after Yemeni soldiers fired an OTR-21 Tochka ballistic missile at Mass military camp in the al-Jada'an district of the central Yemeni province of Ma'rib.
A Yemeni military source, requesting anonymity, had said eight officers from the United Arab Emirates, Saudi Arabia and nationals from other Arab countries were among the slain mercenaries.
Saudi air raids on Yemen continue unabated
Meanwhile, Saudi military aircraft have conducted a new round of airstrikes against several areas across Yemen.
On Sunday morning, Saudi fighter jets launched aerial attacks against al-Ghayl district in the northern province of Jawf, Sirwah district in the central Ma'rib Province as well as Nihm district in Sana'a Province.
However, there were no immediate reports of possible casualties and the extent of damage caused in the airborne assaults.
Yemen has been under military attacks by Saudi Arabia since late March last year. The Saudi military strikes were launched to supposedly undermine the Ansarullah movement and bring the fugitive former president, Abd Rabbuh Mansur Hadi, back to power.
At least 8,278 people, among them 2,236 children, have been killed and 16,015 others injured since March 2015. The strikes have also taken a heavy toll on the impoverished country's facilities and infrastructure, destroying many hospitals, schools, and factories.