Syria
U.S, Israel-backed and financed Terrorists Killed in Homs and Idleb, Explosive Devices Workshop Discovered in Damascus Countryside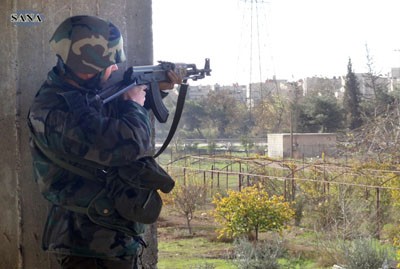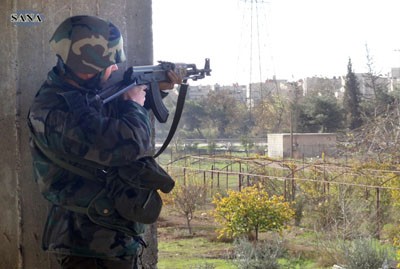 A unit of the Armed Forces on Wednesday clashed with an armed terrorist group in Joret al-Shayyah neighborhood in Homs.
SANA reporter quoted a source in the province as saying that scores of terrorists, including snipers and machinegun shooters, were killed and others were wounded in the clashes.
Terrorists' Hideout Stormed in Damascus, Explosive Devices Workshop Discovered in Daraya, Damascus Countryside
The security authorities stormed an armed terrorist group's hideout in a neighborhood in Damascus, killing all of its members.
The leader of the terrorist group, Iyad Ibrahim al-Dabbas, was identified among the dead.
An army unit discovered a workshop for manufacturing explosive devices near al-Furn roundabout in Daraya city in Damascus Countryside.
An official source told SANA reporter that the army unit seized tens of explosive devices that were ready for remote detonation inside the workshop, in addition to materials and tools used by terrorists to make explosives.
The source added that another unit of the Armed Forces foiled terrorists' attempt to detonate two explosive devices near al-Bashaer al-Arabiya Kindergarten in al-Kournish area in Daraya. It indicated that one of the explosive devices weighed 30 kg and it was planted at the entrance of the kindergarten while the second explosive device, weighing 50 kg, was planted on the street adjacent to the kindergarten.
Terrorists' Hideouts Destroyed, Terrorists Killed in Idleb Countryside
Military units carried out last night and early morning today several qualitative operations, destroying terrorists' hideouts and killing dozens of the terrorists inside of them in Idleb countryside.
An official source told SANA reporter that the bodies of the terrorists Mohammad Abdul Rahman Shuheim and Abi al-Nour al-Sibaei were identified among the killed as a result of the operations carried out in Sarja, Khan al-Subul and Saraqeb towns.
The source added that the military units destroyed several terrorists' hideouts completely in Sarmin, Taranba, Ein al-Sooda, al-Janoudiyeh and al-Ghassaniyeg in Jisr al-Shugour countryside. The Armed Forces are continuing hunting the armed terrorist groups in al-Hamediyeh and Maaret al-Numaan in Idleb Province according to the source.