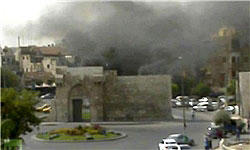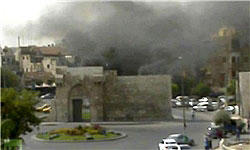 The so-called Free Syrian Army (FSA) terrorists killed at least seven civilians, including women and children by exploding a bomb in the Zeinabiyah neighborhood of Damascus.
The bomb exploded in a market in the vicinity of the holy Shiite Shrine of Hazrat Zeinab (AS) on Wednesday.
The number of casualties of the terrorist attack is expected to rise because the bomb exploded in a densely-populated area.
Earlier today, FSA members abducted 5 Syrian citizens in the Central city of Homs.
The 5 Syrian nationals were kidnapped in al-Vae'r district in the Eastern part of Homs and were transferred to an unknown place.
Earlier today, the Syrian army killed the ringleader of the notorious 'Sa'd Ibn Abi Waqqas' terrorist group in Reef Idlib.
'Sa'd Ibn Abi Waqqas', affiliated to the al-Tawhid terrorist group, is notorious for many terrorist operations in Northwestern Syria.
The leader of the group, Mohammad Ra'fat Qosarah, was on the top of the Syrian Army's most wanted list as the most dangerous terrorist in the region.
The Syrian forces also killed tens of the members of the so-called Free Syrian Army (FSA) notorious terrorist group in Idlib and Reef Idlib district.
Also, FNA dispatches said that the Syrian Army repelled a terrorist attack against the intelligence unit of Aleppo's Air Force and made the terrorists withdraw from the region.
The Syrian army units also foiled terrorists' attacks on key government buildings in Idlib city, and killed tens of armed rebels, including several of their commanders.
The commander of Ahrar al-Harem terrorist group, Hossein al-Salem nicknamed Abu Zia was also among those killed in the Idlib battle.
Syria has been experiencing unrest since March 2011 with organized attacks by well-armed gangs against Syrian police forces and border guards being reported across the country.
Hundreds of people, including members of the security forces, have been killed, when some protest rallies turned into armed clashes.
The government blames outlaws, saboteurs, and armed terrorist groups for the deaths, stressing that the unrest is being orchestrated from abroad.