Syria
U.S, Israel-backed terrorists reveals lies about unrests in Syria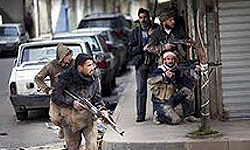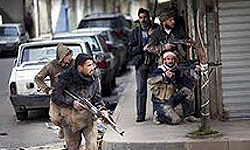 A defected Syrian rebel who worked as a reporter for armed terrorist groups to produce a fake image of the unrests in Syria revealed that the reports he sent from Lebanon were falsely broadcasted as reports from the conflicts in Homs city.
"They transferred me to Lebanon and then forced me to appear before the camera and speak about the current events in Homs and give some reports from there, while I was in Lebanon," Sali Haza' al-Qabani told FNA on Tuesday.
He said that before surrendering to the Syrian forces after President Bashar Assad issued amnesty for all opposition forces, his family was threatened by the terrorist groups and he was obliged to continue his fake reports about events in Syria.
Qabani also said that he himself has witnessed the massacre of Syrian protestors by the terrorist groups which was then allegedly blamed on the Syrian security forces.
Syria has been the scene of unrest since March 2011. Because the presence of armed groups who are supported, financed and armed by Washington, Tel Aviv, Ankara, London, Paris, Berlin and certain Arab regimes.
Zionist Slaughterer Israeli spy chief says Tel Aviv supports regime change in Syria, amid ongoing efforts by the anti-Syria governments to oust President Bashar al-Assad.
"I hope it (regime change in Syria) will happen, even though I don't know when or how," Dan Meridor, who also serves as the deputy prime minister of the Tel Aviv regime, said on Tuesday.
He also expressed "hope" that the "new Syria will understand that joining Iran is a mistake that brings isolation from the Western world."
The latest remarks by the Zionist Salughterer Israeli official come as anti-Syria Western regimes along with Saudi Arabia, Turkey and Qatar have been supporting terrorists inside Syria.
Syrian President Bashar al-Assad said on August 1 that the country is engaged in a "crucial and heroic" battle that will determine the destiny of the nation.