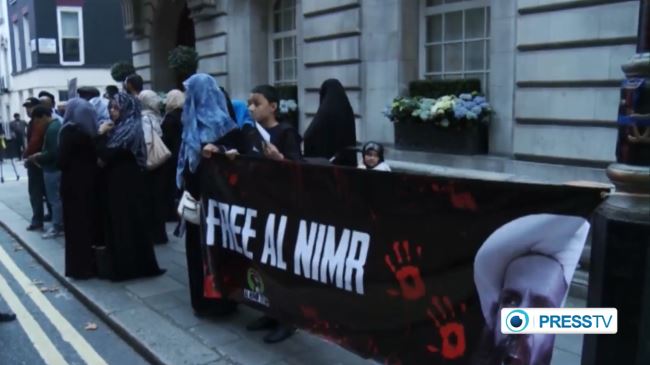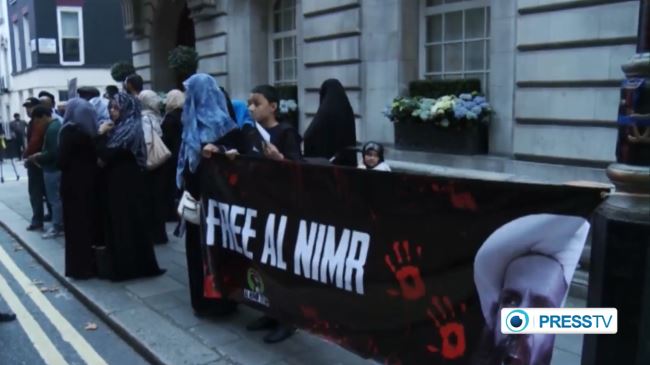 Britons have gathered outside the Saudi Embassy in London to protest the ongoing imprisonment of Saudi Shia Cleric, Sheikh Nimr al-Nimr.
A group of demonstrators held a vigil outside the embassy on Saturday to demand the release of Sheikh Nimr and condemn his treatment. They also criticized the British government for its close ties to Saudi Arabia and for turning a blind eye to what they called the atrocities taking place in the kingdom.
A Saudi court recently sentenced the Shia cleric to death but the final ruling has been postponed. The protesters hope their voice will make the Saudi regime think twice before making their final decision.
Sheikh Nimr's family says he is in critical condition and needs surgery. The Muslim cleric was attacked and arrested in Qatif in July 2012. He has been charged with disturbing the country's security, giving anti-regime speeches, insulting King Abdullah in Friday Prayers sermons, and defending the political prisoners.
"Today is Sheikh Nimr but tomorrow it could be us. So we stand against tyranny and we stand for justice," a protester told Press TV.
"If the Saudi people don't have a voice then we will be their voice, if they don't let them speak and protest then we will protest and speak," another protester said.
The cleric's supporters say Sheikh Nimr is a peaceful pioneer and activist, who has been imprisoned for standing up for the right and justice of those who were unfairly prosecuted in Saudi Arabia.
International human rights organizations have criticized Saudi Arabia for failing to address the rights situation in the kingdom. They say Saudi Arabia has persistently implemented repressive policies that stifle freedom of expression, association and assembly.