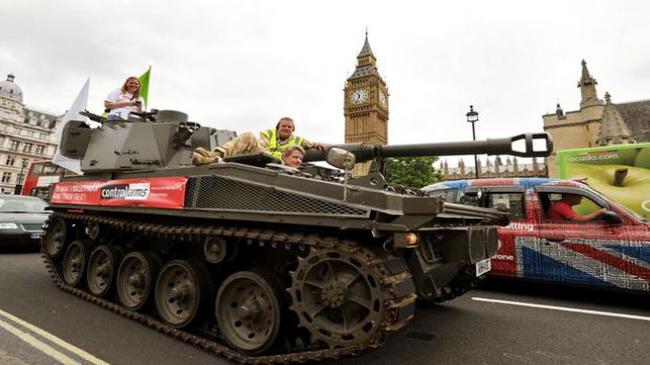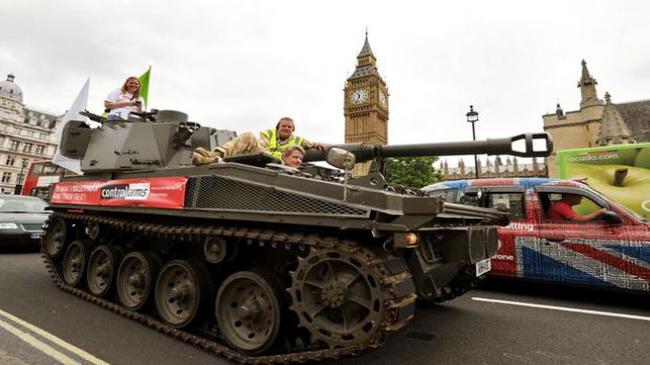 Activists from Amnesty International and Oxfam have taken a 17-tonne armored tank to the streets of central London, calling for an international arms trade treaty preventing transfer of weapons to regions where there is a risk of fuelling serious human rights abuses.
Campaigners drove the vehicle around Parliament Square and along Whitehall to Trafalgar Square, aiming to highlight the importance of the International Arms Trade Treaty talks in New York which start on July 2.
It was also driven past embassies of India, Brazil, South Africa, Kenya and the US in order to persuade their governments to sign up to a global control on the trade of guns and military equipment.
The military "Abbotts Gun Tank" stormed London on a mission to save lives worldwide and stop civilians being killed in the illegal multi-billion pound business.
"Driving a tank through central London is a dramatic way of highlighting all that is wrong with the arms trade today," said Anna MacDonald, Oxfam's Head of Arms Control.
"The new treaty must close all existing dangerous loopholes which allow irresponsible and immoral arms deals to take place each day."
Moreover, Amnesty International's Arms Programme Director Oliver Sprague said, "Armored tanks are – thankfully – not a regular sight on the streets of London. But tragically tanks and other military equipment are used on a daily basis to decimate the lives of thousands of people in places around the world."
Earlier on June 20, over 150 school pupils and university students travelled to Westminster to urge the British government to deliver a robust international arms trade treaty reregulating the trade of weapons across borders, as currently there are no global regulations controlling the arms trade.