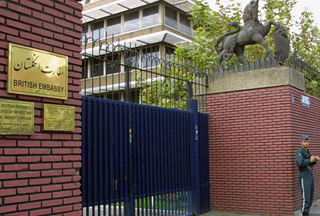 The British Embassy in Tehran has been gathering intelligence on Iran for the United States and Israel, a senior Iranian lawmaker says.
Deputy Head of the Parliament National Security and Foreign Policy Commission Esmail Kowsari told Fars news agency that "the US and the Zionist regime have been receiving intelligence [on Iran] through the British Embassy [in Tehran]."
He added that the British Embassy's interference in Iran's domestic affairs was not confined to security but included political and cultural issues as well.
Britain has been obviously interfering in Iran's internal affairs, Kowsari said, adding that downgrading ties with the British government was to the interest of Iran.
Koswsari said Parliament has reached a "firm decision" that the Iranian government should lower ties with Britain in political, diplomatic, economic and cultural aspects mainly due to the UK's "uncalled for interference" in post-election riots in Iran.
The decision, which has been made through consultations at the commission, is to be presented to the presiding board, the senior parliamentarian said.
Iran-UK relations went into a spiral of tension after Iran charged that Britain had a hand in the post-election unrest that erupted after the June presidential election.
Iranian Foreign Minister Manouchehr Mottaki said in January that Iran was considering limiting relations with the UK.
"After months of deliberation, the Tehran government has decided to limit its relations with Britain in various areas," Mottaki said on January 18.
Prior to Mottaki's remarks, a bill was also introduced by Parliament on severing ties with the British government in January.
The bill was later changed to reducing the level of diplomatic relations with London from ambassadorial level to charge d'affaires.
London has rejected that it had interfered in Iran's domestic affairs in particular the unrest that followed the election.