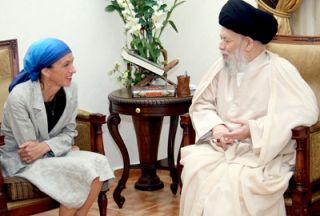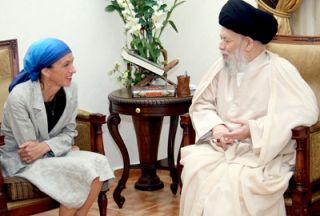 A British envoy has drawn the ire of Israelis by describing Lebanon's late Grand Ayatollah Mohammed Hussein Fadlallah as a "decent" man and her "favorite politician."
Frances Guy, who has been the UK's ambassador to Lebanon since 2008, wrote an obituary that venerated Hezbollah's recently-deceased spiritual leader.
"Sheikh Fadlallah passed away yesterday. Lebanon is a lesser place the day after but his absence will be felt well beyond Lebanon's shores," the ambassador wrote in her blog.
"If I was sad to hear the news I know other peoples' lives will be truly blighted. The world needs more men like him willing to reach out across faiths, acknowledging the reality of the modern world and daring to confront old constraints. May he rest in peace," Guy added.
The Israeli government responded by denouncing the ambassador's comments.
An Israeli foreign ministry spokesman, Yigal Palmor, in strongly-worded comments snubbed the envoy saying, "The British ambassador thinks he was a man of peace and the world needs more of him," The Daily Telegraph quoted, as saying on Thursday.
British Foreign Office was quick to respond by saying that the ambassador's remarks were her personal comments.
"The ambassador expressed a personal view on Shiekh Sayyid Mohammad Hussein Fadlallah describing the man as she knew him," a Foreign Office spokesman said last night.
Moreover, in a move to please the Israeli government, the Foreign Office removed Guy's post from his page on the British Foreign and Commonwealth Office website.
The post entitled "The passing of decent men" was formerly accessible here; however the page now returns an error message reading, "Sorry! We couldn't find your document."
On Wednesday, CNN fired its senior editor for Middle Eastern affairs, Octavia Nasr, after she published a 140-character Twitter message praising the late Lebanese cleric.