Europe
UK housing market has deep problems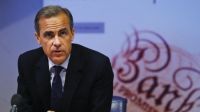 The UK housing market has "deep, deep" structural problems, which currently pose the biggest risk to the British economy, the Bank of England chief says.
According to AFP, the bank's governor, Mark Carney, made the remarks during an interview to be broadcast later on Sunday.
Carney said that the issue around the British housing market is that there are not sufficient numbers of houses being built.
In addition, Carney noted that there is a rise of the number approvals of large mortgages, where house-buyers are given loans up to four times their salaries.
The governor said the Bank should check lending procedures "so people can get mortgages if they can afford them but they won't if they can't."
The BoE chief added that by building more houses and by checking lending procedures, "we can reduce the risk that comes from a housing market that has deep, deep structural problems."
"We don't want to build up another big debt overhang that is going to hurt individuals and is very much going to slow the economy in the medium term," said Carney.
The bank chief's comments come as the Organization for Economic Co-operation and Development (OECD) issued a warning earlier this month, calling on the Bank of England to impose measures to help quell rising house prices.