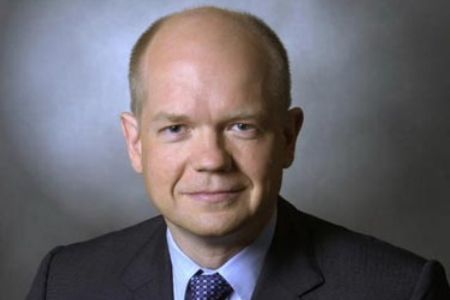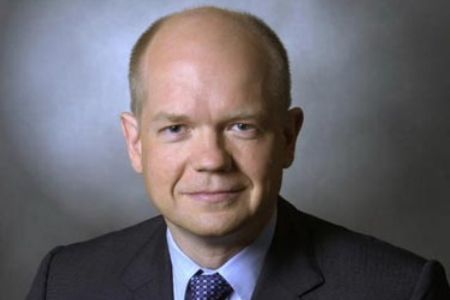 The British foreign secretary is to hold secret talks with Israeli officials on Iran's nuclear program during a three-day visit to the Middle East.
William Hague is to arrive in Tel Aviv on Tuesday for his first visit to Israel and the Palestinian territories since taking over as Britain's top diplomat in May, the Ha'aretz daily reported.
He is expected to hold in-depth talks with Tel Aviv authorities on Wednesday to discuss Iran's nuclear activities and assess how effective sanctions against Tehran have been, the Ha'aretz report added.
The talks come at Hague's request, according to AFP.
Among those scheduled to attend the meeting are Meir Dagan, head of the Mossad spy agency, Shaul Horev, who heads Israel's Atomic Energy Commission, and Dan Meridor, Intelligence and Atomic Energy Minister.
In the meantime, the British Embassy in Tel Aviv said, "Britain shares Israel's concern about the threat posed by nuclear weapons in Iran's hands and holds regular discussions about this issue."
The Embassy statement, however, comes while Iran neither possesses nor does it plan to obtain nuclear weapons.
Britain and France have spearheaded the battle against Iran's nuclear program in the European Union (EU). After the UN Security Council approved a fourth round of sanctions against Tehran in June, London and Paris worked hard to convince the EU to approve additional sanctions of its own against Iran, which it did in late July.
Israel, the United States and certain other Western countries have accused Tehran of seeking nuclear weapons.
Iran denies the allegation, saying its nuclear program is intended for peaceful purposes.
This comes as Israel is widely believed to be the region's sole possessor of a nuclear arsenal.
Israel has refused to become a signatory to the Nuclear Non-Proliferation Treaty, and denied the International Atomic Energy Agency's inspectors access to its nuclear sites.