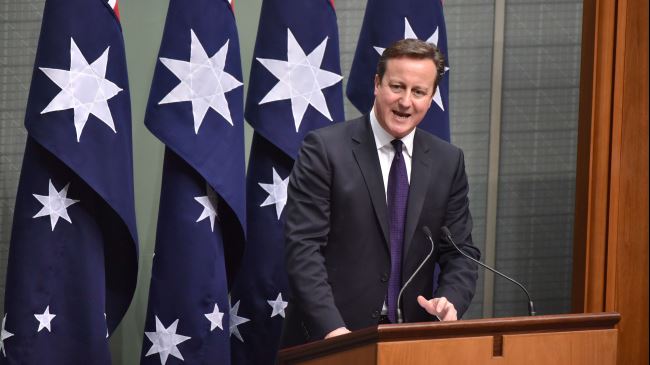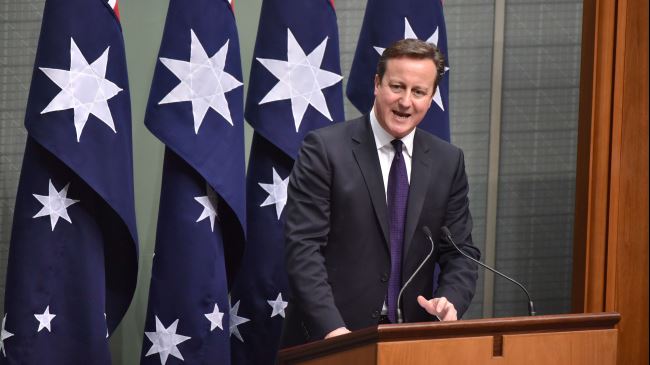 UK Prime Minster David Cameron has unveiled new plans aimed at discouraging British extremists from joining the ranks of the ISIL Takfiri terrorists operating in Iraq and Syria.
Cameron presented details of the anti-terrorism bill on Friday in an address to Australia's parliament in the capital, Canberra.
The planned measures include banning British nationals, who are fighting alongside the ISIL Takfiris in the Middle East, from returning to the UK for at least two years.
Cameron added that British militants must comply with strict conditions to return under new laws.
In addition, UK police will also have the authority to seize passports of British nationals, including minors, for up to thirty days, if they are suspected of preparing to join terrorist groups overseas.
Meanwhile, the airlines which do not comply with the UK's no-fly lists or security screening measures will be prevented from landing on the British territory.
Cameron said the new measures will be imposed "shortly" without giving a specific date.
The proposed measures come amid fears in the UK government that the British militants returning with experience from crisis-hit Middle Eastern states may carry out terrorist attacks at home.
At least 500 Britons are believed to have joined the Takfiri terrorists in Syria and Iraq over the past two years. London says 250 others have already returned to the UK.
The ISIL terrorists currently control large swathes of territory across Syria and Iraq. They have been committing heinous crimes in the captured areas, including mass executions and beheading of people.
The British government is among the group of western countries supporting anti-government militants in Syria over the past years.
On November 10, British Foreign Secretary Philip Hammond pledged to make "a significant contribution" to equip and train militants fighting against the Syrian government.