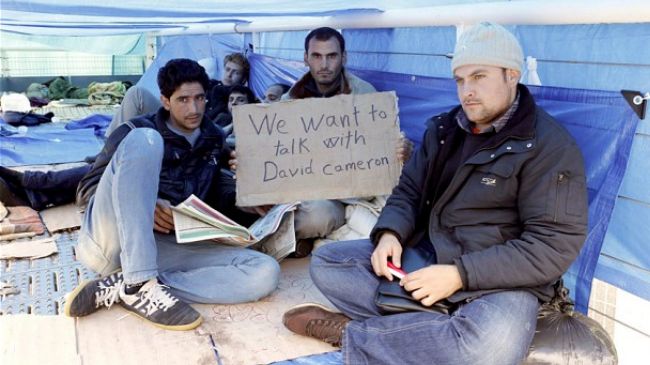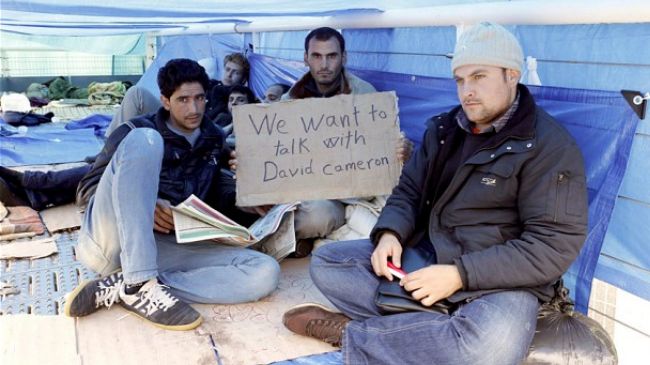 British border police have ruled out group entry to some 60 Syrian asylum seekers, who pleaded to be allowed into the UK at a French port.
Some 60 Syrian refugees, many of them on hunger strike, had blocked a gangway at Calais ferry terminal in northern France since Wednesday.
The protesters voiced disappointment at the way they were treated in France, holding placards reading, "Take us to the UK" and "We want to talk to [British Prime Minister] David Cameron".
On Friday, a three-member team of the British border force held talks with the refugees who were trying to get to Britain.
After hours of discussions, top government official for France's Pas-de-Calais region Denis Robin announced that British authorities were prepared to examine the Syrians' requests on a "case by case basis" but only those with relatives in the UK would be considered for entry.
Robin also said the British officials had made it clear that it was "not possible for a group of people to enter British territory without any control, without studying the different cases at all".
Syria has been gripped by deadly unrest since 2011. According to reports, the Western powers and their regional allies — especially Qatar, Saudi Arabia, and Turkey — are supporting militants operating inside the Arab country.
In a recent statement, the United Nations High Commissioner for Refugees said the number of Syrian refugees, who have fled the country's conflict, has reached two millions.
UNHCR figures also show that some 21,000 Syrians have demanded asylum in Europe since the beginning of 2013.