Bahrain
UK Think Tank: Al Khalifa Regime Fails to Implement Reforms in Bahrain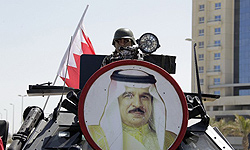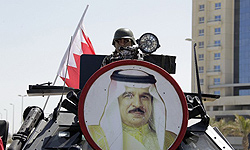 Bahrain's Al Khalifa regime has not done anything substantial to implement reforms in the tiny Persian Gulf country despite its repeated promises, a UK think tank said.
The Chatham House in a roundtable titled 'The Bahrain Outlook' and attended by both supporters and opponents of the Al Khalifa regime discussed the trend of political developments in Bahrain.
The participants noted that a joint report by the Project on Middle East Democracy, a US pro-democracy NGO, and Bahrain Independent Commission of Inquiry (BICI) has concluded that only three out of BICI's 26 recommendation have been fully implemented.
The commission was set up at the order of the Bahraini king himself last year.
They said after the publication of BICI's recommendations, the progress had been disappointing.
Participants also pointed to the government's decision to revoke the nationality of 31 Bahrainis in November.
The list included prominent opposition members, including two former MPs from Al-Wefaq and an academic, some have dual nationality and others have been made suddenly stateless, including two who happened to be in the United Kingdom when the news broke.
It was noted that some of those affected had first heard the news on Twitter, where it had been leaked by an account known for denouncing opposition activists, suspected by some of belonging to a member of the security services.
Several participants mentioned the importance of the media, both as a source of conflict and as a potential solution. Bahrain's media landscape is growing increasingly polarized as government and opposition-affiliated newspapers, websites and television channels cover events in a partisan and often myopic manner.
Anti-government protesters have been holding peaceful demonstrations across Bahrain since mid-February 2011, calling for an end to the Al Khalifa dynasty's over-40-year rule.
Violence against the defenseless people escalated after a Saudi-led conglomerate of police, security and military forces from the Persian Gulf Cooperation Council (PGCC) member states – Saudi Arabia, Kuwait, the United Arab Emirates, Oman and Qatar – were dispatched to the tiny Persian Gulf kingdom on March 13, 2011, to help Manama crack down on peaceful protestors.
So far, tens of protesters have been killed, hundreds have gone missing and thousands of others have been injured.