Europe
UK under-five death rate ranks high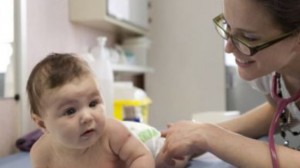 The United Kingdom has one of the highest death rates for children under five in Western Europe, a study shows.
The Institute for Health Metrics and Evaluation (IHME) at the University of Washington, Seattle, evaluated data collected from 188 countries for the study.
Child death rate in the UK is 4.9 for every 1,000 babies that are born. This figure is nearly twice that of Iceland, the European country with the fewest child deaths where the rate is 2.4 per 1,000 births, according to the study published by Lancet medical journal.
According to the study, poverty and mothers smoking during pregnancy are two of the main factors for such a high child mortality rate.
Dr. Richard Horton, editor of the Lancet medical journal, said, "These figures show the significant health burden that children bear in the UK compared with their European neighbors."
"The reasons for this are likely to be complex, but undoubtedly include the poor organization of children's health services in the UK."
"Until our politicians begin to take the health of children – the health of the next generation of British citizens – more seriously, newborns and older children will continue to suffer and die needlessly."
Recently Britain's Royal College of Obstetricians and Gynecologists warned over the rising infant mortality rate in the UK.
Official figures show that 300 babies die during birth or soon after with a further 1,200 ending up with brain damage or other serious health problems in Britain every year.