Europe
Ukraine government, opposition agree truce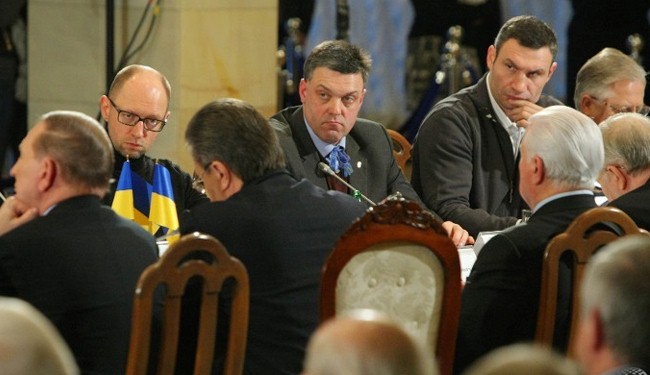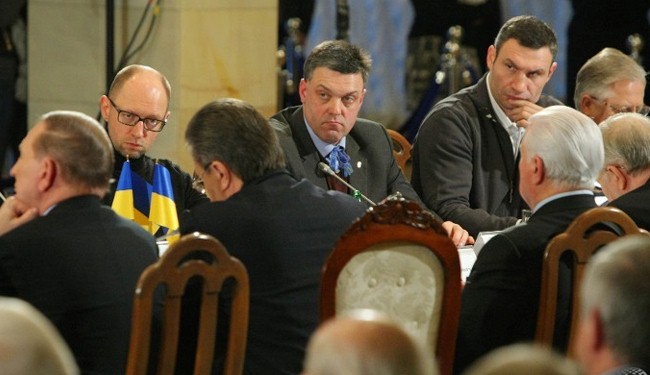 Ukrainian President Viktor Yanukovich and opposition leaders have agreed to a truce following a meeting which focused on how to end the crisis in Ukraine peacefully, the president's press office confirmed.
"Following the meeting, the parties announced: 1. Truce 2. The start of negotiations to end the bloodshed, to stabilize the situation in the country, for the sake of civil peace," the press office stated on Wednesday.
The president met with the leader of the nationalist Svoboda opposition party, Oleg Tyagnibok, Batkivshchyna opposition leader Arseniy Yatsenyuk, and UDAR party leader Vitaly Klitschko.
Batkivshchyna opposition party leader Arseniy Yatsenyuk announced the same thing, according to the party's press office. He stressed that the government was planning to declare state of emergency and a night assault on Independence Square, which has now been canceled.
"The planned assault and clearing off protesters is canceled. A truce has been declared and talks will start to stabilize the situation," Yatsenyuk said.
However the far-right wing of the Ukrainian opposition refuses to observe the truce. The leader of Right Sector said the group did not sign any agreements and called for the continuation of the "offensive of the resurgent people."
Yanukovich also declared that Thursday be a day of mourning for the victims of the clashes.
US President Barack Obama and Canadian Prime Minister Stephen Harper reacted cautiously to the news of the truce in Ukraine, stressing that they will continue to monitor the situation closely.
At least 26 people, including 10 police officers, have been killed and some 800 injured since the start of violent riots in Kiev on Tuesday. The most recent, deadliest wave of violence in Ukraine started with an attempt by radical protesters to storm the building of the Ukrainian parliament (Verkhovna Rada), which prompted fierce clashes with police. Several buildings in central Kiev, including the office of the Party of Regions, were stormed, looted, and set on fire.
The protests first erupted when President Yanukovych rejected a landmark association and trade deal with the EU in favor of closer ties with Russia. Since then, the protests spread across Ukraine, with the main demand of snap presidential and parliamentary elections.