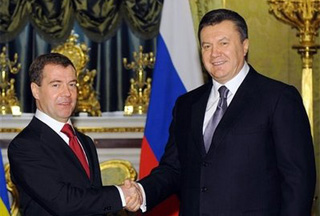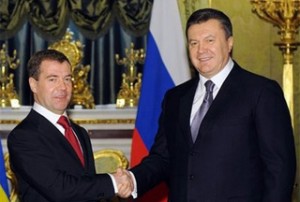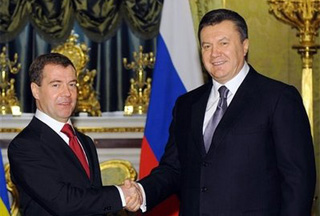 The visiting Ukrainian president to Russia says he will launch a new direction in ties with the Kremlin, vowing to dramatically boost Kiev-Moscow relations.
"I see my task as ensuring that relations between Russia and Ukraine take a sharp turn in the right direction," Viktor Yanukovich said on Friday in a televised meeting with his Russian counterpart Dmitry Medvedev, AFP reported.
Relations between Kiev and Moscow "should never be the way they were for the past five years," he added, referring to the strained relations between the two neighbors under his predecessor, Viktor Yushchenko.
For his part, Medvedev also expressed hope that Ukraine and Russia will start a new chapter in their bilateral ties.
"I hope very much that with the arrival of a new president in Ukraine, the relations between our two countries will acquire a qualitatively new dynamic," Medvedev said in the meeting, which took place at the Kremlin.
Ties tarnished between the ex-Soviet states over the past five years under West-leaning Yushchenko who was trying to bring Ukraine within the sphere of NATO military alliance, something deemed by the Kremlin as the encroachment of Russia's sovereignty.
The natural gas supplied by Russia has also been another point of contention between the two nations.
Much of the Russian natural gas exported to Europe goes through Ukraine to reach the continent. Last January, however, a dispute over gas prices between Russia and Ukraine left more than a dozen European states without gas.