Europe
'Ukraine sure to join EU soon'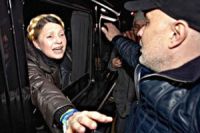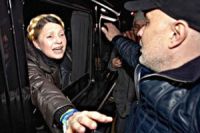 Ukraine's opposition leader Yulia Tymoshenko says she is sure the country will join the European Union (EU) in the near future.
According to Press TV,Tymoshenko made the comment on Saturday minutes after she was released from the hospital where she had been held under prison guard in the northeastern city of Kharkiv.
The opposition icon also said she would stand for president in May.
Tymoshenko then went to Kiev to join her supporters who were mourning their dead at Independence Square, known as the Maidan.
Meanwhile, Oleksandr Turchynov, the newly elected parliament speaker, said ousted President Viktor Yanukovych tried to board a plane to Russia, but was prevented from doing so and is now in the eastern city of Donetsk.
According to reports, Kharkiv's regional governor along with the city's mayor, both of them top allies of Yanukovych, left Ukraine across the nearby Russian border.