Europe
Ukraine's Mariupol holds mourning day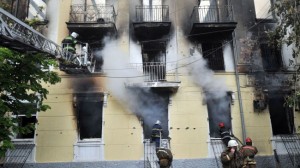 People in Ukraine's southeastern city of Mariupol have observed a day of mourning in the wake of deadly clashes between government troops and pro-Russia activists.
"May 10, 2014, has been declared a day of mourning due to the tragic events, which occurred on May 9 and claimed human lives," the City Council said in a statement on Saturday.
Friday violence erupted after the Ukrainian forces tried to push out pro-Kremlin demonstrators from a police headquarters in Mariupol.
At least 20 protesters and an army officer were killed and more than two dozen others sustained injuries during the Ukrainian army's military operation in the port city.
Government troops reportedly used rocket-propelled grenades, heavy machine guns and snipers to drive the demonstrators out of the building.
Mariupol is an important industrial and shipping center in the Donetsk region that has been the focus of frequent skirmishes in recent days.
Ukraine's acting government re-launched its military operation on April 23 in the eastern and southern regions in a bid to root out the pro-Moscow demonstrations.
Nearly 90 people were killed during Kiev's intensified crackdown on the pro-Russia stronghold of Slavyansk and Odessa last week.
Tensions remain high in the region as protesters continue to occupy government, police and other administrative buildings in a number of cities close to the Russian border. They have been demanding local referendums on either independence or integration into Russia.
Pro-Russia protests gained momentum in the eastern and southern parts of Ukraine after Crimea declared independence from the former Soviet state and formally became part of the Russian Federation following a referendum in March.