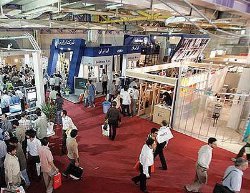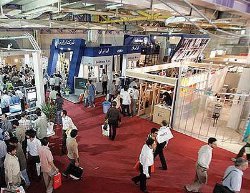 The visiting sales manager of the Ukrainian Frunze Company described the ongoing Iran Oil Show 2011 as a unique event in oil industry.
Speaking to IRNA on the sidelines of the exhibition, Alexander Tatarinov said his company was active in Iran's oil and gas industry during the past 20 years.
The 16th Oil, Gas, Refining and Petrochemicals Exhibition opened in Tehran on April 15 with the participation of 1,550 domestic and foreign companies from 40 world countries.
Tatarinov referred to the ongoing Oil Show as the best opportunity to become familiar with potentials of the participating companies.
He said Frunze was highly active in the field of constructing gas compressor stations, gas complex treatment plants, condensate processing plants, CNG vehicle refueling gas compressor stations and so on.
Tatarinov said tha the Ukrainian company has ignored West's anti-Iran sanctions and was willing to expand bilateral ties with its Iranian counterparts.
Noting that Frunze was "open for cooperation,' the Ukrainian manager expressed hope that the show would prepare the grounds for signing agreements with the Iranian companies.
The number of foreign companies participating in the Iran Oil Show 2011 had a 35 percent growth this year compared to the last year's show.
This indicated that foreign companies gave priority to their long-term interests and were not bowing to the arrogant powers' pressures.
Iran's oil industry has always been subject to various sanctions but its huge oil and gas resources have prompted the acclaimed international oil companies to invest in the country's oil and gas projects despite pressures inserted by certain states.
The Iran Oil Show 2011 will continue until April 19.
Companies from Austria, Spain, Australia, Britain, Italy, Germany, Turkey, the Czech Republic, Denmark, Russia, France, the Netherlands, Norway, India, Singapore, Japan, China, Taiwan, Thailand, Saudi Arabia, Canada, and Brazil are participating in the event .