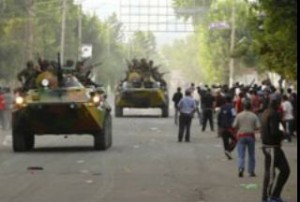 Almost 400,000 people have been displaced by ethnic violence in southern Kyrgyzstan, the United Nations humanitarian office says.
Some 300,000 people have left their homes but are still inside Kyrgyzstan and as many as 100,000 people are thought to have taken refuge in neighboring Uzbekistan, the United Nations humanitarian office spokeswoman, Elisabeth Byrs, said on Thursday.
The latest figure exceeds previous official estimate of 75,000.
Many ethnic Uzbeks, who have fled the country, are now living in make-shift camps along the Uzbekistan side of the border and are too afraid to go back to their homes, the Associated Press reported.
Those who are on the Kyrgyzstan side of the border say that authorities have banned them from crossing the border and are awaiting their chance to leave the country for the camps.
Rights groups have raised alarm about an imminent humanitarian crisis in the region.
"We're going to have an increasingly serious humanitarian problem which is going to affect both the Kyrgyz and the Uzbek communities in southern Kyrgyzstan," said Paul Quinn-Judge, the Central Asia Project Director at the International Crisis Group — a Brussels-based security think tank told the BBC from the capital, Bishkek.
Violence erupted last week between the majority Kyrgyz population and minority ethnic Uzbeks in the wake of a bloody uprising in April that deposed President Kurmanbek Bakiyev.
Kyrgyzstan's interim government has blamed ousted President Kurmanbek Bakiyev for orchestrating the deadly riots.
Azimbek Beknazarov, the deputy chief of the provisional government, put the number of deaths on both sides at 223, but some observers have suggested the death toll far exceeds that number.