Yemen
UN aircraft moves 50 wounded Houthi fighters to Oman for treatment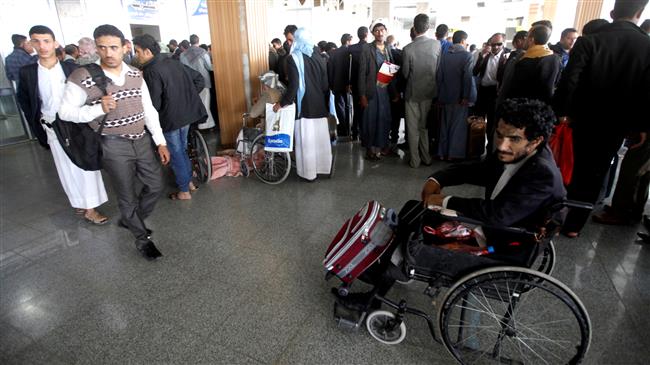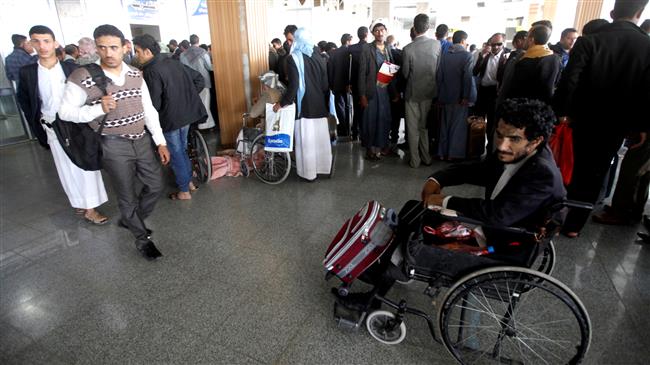 A group of 50 wounded fighters from the Yemeni Houthi Ansarullah movement have been flown out of the war-torn country for treatment as part of measures aimed at paving the way for planned peace talks brokered by the United Nations after nearly four years of war.
The wounded Houthi fighters along with their escorts and a team of doctors left Sana'a International Airport for Oman on a UN-chartered flight on Monday.
A UN source confirmed that the wounded had been evacuated from the Yemeni capital in what was a "confidence-building measure" aimed at pushing ahead with negotiations held between Yemen's warring sides in Sweden this month.
UN envoy to Yemen Martin Griffiths has held separate talks over the past few days with officials from the Houthi Ansarullah movement and forces loyal to former Saudi-backed president Abd Rabbuh Mansur Hadi as part of efforts to lay the ground work for the peace talks.
The fate of wounded Houthis had been a stumbling block to the start of a previous round of collapsed peace talks in Geneva in September.
The fresh push for peace comes amid mounting pressure on Saudi Arabia over the high civilian toll and a serious deterioration of the humanitarian crisis in Yemen. The kingdom is also under scrutiny over the assassination of Saudi dissident journalist Jamal Khashoggi.
Most Western countries, the US and Britain in particular, are accused of being complicit in the ongoing aggression for supplying advanced weapons and military equipment in addition to logistical and intelligence assistance.
The UN aid chief warned on Saturday that Yemen was "on the brink of a major catastrophe" as he wrapped up a visit to the improvised country.
Saudi Arabia launched its devastating military campaign against Yemen in March 2015, with the aim of bringing the government of Hadi back to power and crushing Houthis.
According to a new report by the Armed Conflict Location and Event Data Project (ACLED), a nonprofit conflict-research organization, the Saudi war has so far claimed the lives of around 56,000 Yemenis.
The war has also taken a heavy toll on the country's infrastructure, destroying hospitals, schools, and factories. The UN has said a record 22.2 million Yemenis are in dire need of food, including 8.4 million threatened by severe hunger.