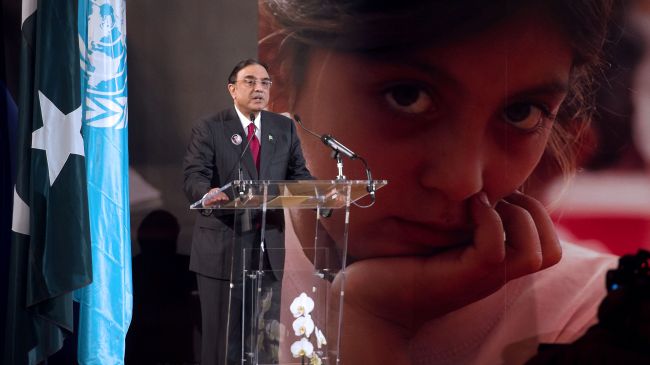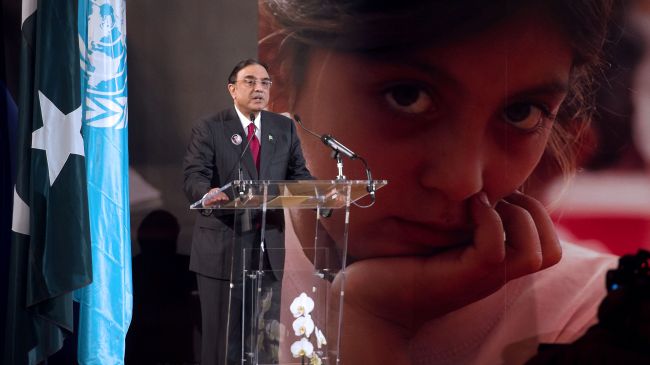 Pakistan and UNESCO have unveiled a new plan to get all the girls in the world into school by the end of 2015.
Organizers named it the Malala Plan — after Malala Yousafzai, the 15-year-old Pakistani activist who was shot in the head by the Taliban on October 9 for speaking out against the fanatics and promoting education for girls and women in her home region, the Swat Valley of Khyber Pakhtunkhwa province.
Malala's father, Ziauddin Yousafzai, attended the ceremony where the plan was announced, along with Pakistani President Asif Ali Zardari, at the Paris headquarters of the United Nations Educational, Scientific and Cultural Organization (UNESCO).
At the "Stand Up For Malala" advocacy event, Zardari announced that $10 million would be donated to seed a fund for the UNESCO plan and said sending girls to school was the best way to combat extremism. However, he did not explain where the money would come from.
The Pakistani president said he was "deeply moved" to have met Malala over the weekend, during a visit to the British hospital where she is recovering.
"I have no doubt that our resolve to provide education to all, in particular to the millions of schoolgirls, is the best strategy to defeat the forces of violence," Zardari stated.
Malala was flown to Britain on October 15 for specialist care at the Queen Elizabeth Hospital in Birmingham after Pakistani doctors said she needed treatment for a damaged skull and "intensive neuro-rehabilitation."
Earlier in the day, former British Prime Minister Gordon Brown, who is the United Nations Special Envoy for Global Education, appointed Malala's father a UN special advisor on global education.
Brown said Ziauddin is perfect for the role of advising him in his campaign.
"His (Ziauddin's) unique qualities — a teacher and headteacher as well as a parent who has had to struggle against opposition to girls' education and the closing of schools — makes him ideally suited to leading in our educational effort to get all to school," he stated.
"Before she was shot, Malala was advocating the cause of girls' education faced by a Taliban that had closed down and destroyed 600 schools," the former British prime minister said.
"If the Taliban sought to vanquish her voice once and for all, they failed.
"For today her voice and her insistent dream that children should go to school echoes all around the world, as girl after girl, each wanting all girls to have the right to go to school, identifies with Malala."
Brown added, "In time, Malala herself is determined to join the campaign for every girl's right to education, and when she has recovered she will do so, becoming one of the leaders of that campaign."
Malala Yousafzai is still in the hospital in Britain, recovering from her injuries, but a young Yemeni schoolgirl read a statement she composed at the "Stand Up For Malala" event in Paris on Monday.
Following is the text of Malala Yousafzai's message:
"I am thankful to my nation in Pakistan and the whole world for supporting me and the grand cause of education that I stand for.
"I am thankful also to all the nurses and doctors at the Queen Elizabeth Hospital Birmingham for their outstanding care that helps me get better day by day.
"People from Pakistan and all over the world prayed to God for my life and God gifted me a second life.
"My dream is to see all children, especially girls, going to school to be educated. I dream of a peaceful world where all human beings are accommodating and tolerant. I wish to see equality and justice for all men and women.
"I am on a journey to see my dreamland. It does not matter if I fall down; I will stand again, walk and struggle hard.
"Today is the happiest day for me because the honorable president of Pakistan and UNESCO are here to help the poor and uneducated children.
"I have received thousands of cards full of good wishes and a lot of gifts, which is an honor for me — but if you help others and do something for the education of girls, that would be a greater honor for me and the happiest moment of my life. The sooner all deprived children go to school, the sooner I will get better."