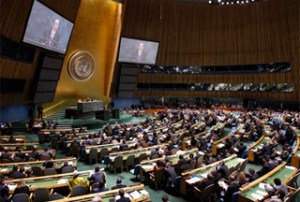 The UN General Assembly is set to vote on a resolution requiring Israel to conduct an investigation into charges of war crimes committed during its January offensive on Gaza.
The assembly's 192 member nations will decide on the non-binding resolution on Thursday at the end of a two-day debate on a report by an independent UN fact-finding committee headed by former war crimes prosecutor Richard Goldstone.
The damning report mainly highlighted Israeli violation of international laws during the deadly attacks by Israeli fighter jets and ground troops during the Gaza onslaught that left more than 1,400 Palestinians, mostly civilians, killed.
The UN committee charged the Israeli army with intentional targeting of places known to hold civilians and using Palestinians as human shields among other war crimes.
The report infuriated Tel Aviv officials who vowed to go to any length to prevent what could face the Israeli initiators of the war with prosecution in The Hague-based International Criminal Court.
The United States has also voiced it full support for the Israeli regime and promised to stay by Tel Aviv's side in its fight against the UN report.
But the coalition is likely to be outshone by a vast majority of nations who seem determined to put an end to what they call Israel's impunity.
The General Assembly's draft resolution introduced by Arab states and the Non-Aligned Movement, which represents 118 nations, wants the UN chief to send the findings from the Goldstone report to the Security Council if independent investigations of the alleged war crimes are not set up within three months.
The report, backed by the United Nations Human Rights Council, looked into 36 incidents during Israel's war on Gaza, saying it could not find any military targets to justify attacks by Israeli forces.
Tel Aviv has repeatedly threatened to discard long-stalled peace negotiations with Palestinians if the report finds its way to the UN Security Council.