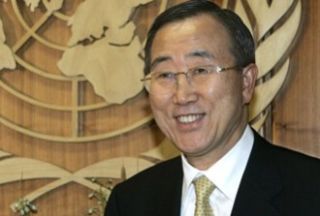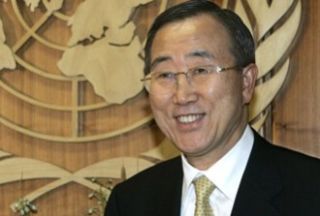 The UN chief says the new Security Council sanctions against Tehran should not block a diplomatic resolution to the standoff over Iran's nuclear program.
Iran's President Mahmoud Ahmadinejad said on Monday that Tehran would be prepared to hold talks with Western countries in September but only if certain conditions are met.
"Negotiations will be delayed as a punishment to teach them a lesson to know how to have a dialogue with other nations," Ahmadinejad said.
"Even with the Security Council's resolution adopted on other sanctions, the door is still open for a negotiated settlement," UN Secretary-General Ban Ki-moon said in response to the Iranian president's remarks on the sidelines of the G20 summit, Reuters reported.
He went on to say that he had discussed Iran's issue with top European Union diplomats, urging Iran and the five permanent UN Security Council members plus Germany to resume negotiations.
"I will continue to urge the leaders of the world, the concerned parties to continue their negotiations for an eventual resolution of this issue," the UN chief added.
On June 9, the UNSC passed the Washington-drafted sanctions resolution against Iran over Western allegations that Tehran's nuclear program is harboring a secret military agenda.
While the US possesses and has used nuclear weapons in the past, Washington, in a politically-motivated move, is now imposing unilateral sanctions against Iran, which does not possess nuclear weapons nor does it seek to develop such weapons.
Iran has repeatedly rejected the allegations, reserving its right to a peaceful nuclear energy as a member of the International Atomic Energy Agency (AIEA) and a signatory to the Nuclear Non-Proliferation Treaty (NPT).