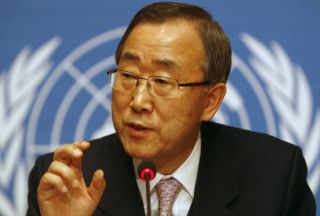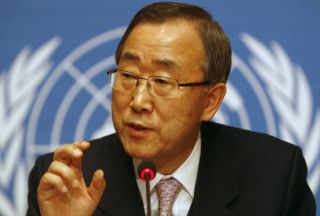 UN Secretary General Ban Ki-moon has warned that a fresh conflict could erupt in the Middle East, following an increase in tensions between Israel and Lebanon.
In a report to the UN Security Council on Friday, Ban said the mounting tensions "raised the specter of a miscalculation by either party leading to a resumption of hostilities, with potentially devastating consequences."
The UN chief went on to accuse both sides of violating the 2006 cease-fire resolution that ended the 33-day war between Israel and the Lebanese resistance movement of Hezbollah.
Israel continues to defy international law by conducting daily military flights over Lebanon and by refusing to withdraw from the disputed northern border village of Ghajar, the UN chief said.
He also expressed concern about Israel accusing neighboring Syria of having provided Scud missiles to Lebanon's Hezbollah, saying it has "resulted in increased tension" in the region.
The Israeli accusations were leveled against Syria as both governments in Damascus and Beirut have categorically denied the missile transfer allegation.
The secretary general also voiced concern over the recent scuffles between Lebanese civilians and the UN Interim Force in Lebanon (UNIFIL).
The confrontation came after UNIFIL staged a controversial maneuver at the beginning of July, which raised public ire in southern Lebanon.
The unilateral drill, which was reportedly aimed at protecting Israel from possible missile attacks from southern Lebanon, was stopped amidst civilian protests.
The Lebanese people have denounced the move as out of ordinary and not in accordance with the mandate of the UNIFIL. They have also blamed the peacekeepers for their inaction toward the almost daily violation of the UN-drawn Blue Line by Israeli forces.