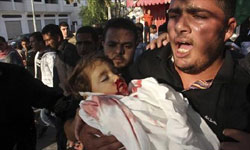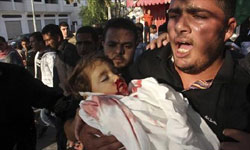 The United Nations voiced concern about the number of child casualties resulting from Israel's bombing of Gaza.
At least four Palestinian children have been killed and over 60 injured in Israeli airstrikes since Wednesday, according to the UN.
An 11-month-old boy and a pregnant woman are among the dead.
The UN special body for the protection of children has called for an immediate end to the bloodshed. "I call on all parties to immediately stop the violence and to fully respect their obligations under international humanitarian law to protect girls and boys from the fighting," said the Special Representative of the Secretary-General for Children and Armed Conflict, Ms Leila Zerrougui.