Middle East
Saudi Arabia
Yemen
UN confirms Yemen's Ansarullah fully abiding by peace deal
A UN mission monitoring a peace deal between warring parties in Yemen's Hudaydah says the Houthi Ansarullah movement has fully withdrawn its forces from three key ports in the region based on the truce agreement.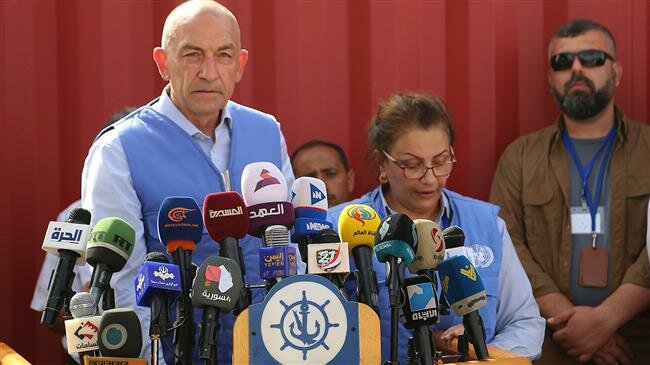 Lieutenant General Michael Lollesgaard, who heads the UN monitoring mission in Hudaydah, said in a statement that regular UN patrols had not detected a Houthi military presence in the three Red Sea ports of Hudaydah, Salif and Ras Isa since May 14.
Lollesgaard said Houthi military installations and equipment had been removed from Salif and Ras Isa but largely remained in Hudaydah.
He called on the Houthis to "expeditiously complete the removal of all military manifestations, including trenches, as part of their commitment to the process."
The Houthi Ansarullah movement's unilateral pullout from the ports in early May was the most significant advance yet for efforts to end the four-year-old waged by the Saudi-led coalition against the movement
In December, Yemen's government and the Houthis met in Sweden and agreed to a ceasefire and troop withdrawal deal for Hudaydah. Under phase one, the Ansarullah pulled out of the Red Sea ports of Hudaydah, Salif and Ras Isa last month.
UN: Yemen's Houthis hand over key ports to coastguardThe UN confirms that Yemen's Houthis have handed over key ports to the local coastguard under a deal while the other warring side is yet to pull out its forces.
Hudaydah is Yemen's main port and a lifeline for millions of Yemenis on the brink of starvation, a situation exacerbated by restricted imports of food and other supplies due to the war.
The move by the Houthis is due to be met by a retreat of Saudi-led coalition forces from the eastern outskirts of Hudaydah, facilitating humanitarian access to grain stores at the Red Sea Mills.
Lollesgaard said last month that a phase one withdrawal by government and coalition forces would not take place until the warring parties had worked out details for a broader phase two redeployment.
More than 70 percent of Yemen's imports used to pass through the docks of Hudaydah, a lifeline for the war-ravaged country's crippled economy. Salif was used for unloading all main types of grain, and Ras Isa, a vital oil terminal, was used for exporting Ma'rib's light crude oil.
The lengthy siege has pushed tens of thousands of people in Yemen to the verge of starvation and crippled the country's economy. In an effort to prevent the humanitarian situation from further deteriorating and to avert a larger assault by the Saudi-led coalition on the ports, the Houthis signed a UN-brokered agreement with the ex-government in Sweden last December.